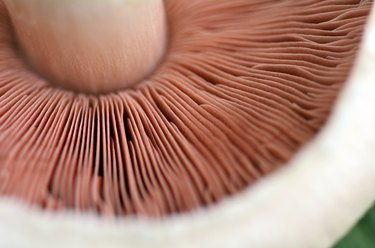 Stuffed Portobello mushrooms make a filling appetizer, unique side dish or light lunch. Turkey sausage complements the meaty, rich flavor of Portobello mushrooms and is leaner than traditional pork sausage. Stuffing Portobello mushrooms with raw sausage and baking them allows the meat juices to soak into the mushrooms, but you must make sure that the sausage mushroom stuffing is cooked through to be safe. The best way to do so is with an instant-read thermometer.
Step 1
Preheat your oven to 400 degrees Fahrenheit. Spray a baking dish lightly with nonstick cooking spray.
Step 2
Wipe down the mushrooms with dampened paper towels. Although you can wash mushrooms, water can damage the skin on top, so a gentle wipe-down is all they need.
Step 3
Brush all sides of the Portobello mushrooms with olive oil. Place them, tops down, in the oiled baking dish.
Step 4
Mix together loose turkey sausage, minced garlic and finely chopped onion. You can do this by hand or in a food processor for a smoother, finer result. Add one beaten egg and enough bread crumbs to hold the mixture together without making it too dry.
Step 5
Season the mixture with Italian seasoning and scoop about ½ cup of sausage into each Portobello mushroom cap.
Step 6
Place the baking dish in the hot oven and bake for at least 30 minutes. Sprinkle the tops generously with grated parmesan cheese and bake for another five minutes or until an instant-read thermometer inserted into the center of the sausage holds a reading of 165 degrees Fahrenheit for at least 15 seconds.
Things You'll Need
Baking dish

Nonstick cooking spray

Paper towels

Pastry brush

Olive oil

Turkey sausage, loose

Garlic, minced

Onion, finely chopped

Bread crumbs

Egg, beaten

Italian seasoning

Parmesan cheese, grated

Instant-read thermometer
Tip
Top the sausage-stuffed mushrooms with tomato sauce and serve them with pasta for a complete meal.
Warning
Never let any utensil that came into contact with raw sausage also touch cooked sausage.