Alcohol consumption affects all your body's systems. Because alcohol enters your bloodstream, it is carried to every organ and cell. Alcohol use causes imbalances of electrolytes, the electrically conductive ions in body fluids, which affects potassium levels. These ionic imbalances interfere with normal body processes by altering the chemical composition and concentration of fluids throughout your body.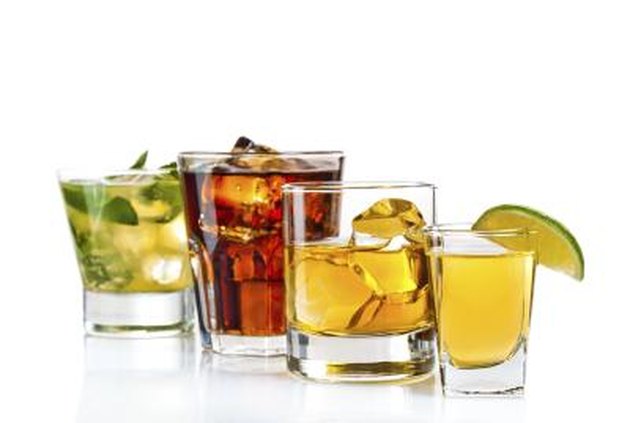 Functions of Potassium
Potassium levels in your body play a role in nerve function, blood pressure and muscle control. One of the major actions of potassium in your body is to regulate the balance of water at the cellular level, which in turn affects the functions of other body systems, according to Colorado State University. Potassium helps maintain hormone balances, and it helps regulate your kidney's fluid-filtering processes. An imbalance of sodium and potassium ions is one cause of hypertension.
Anti-Diueretic Hormone
One hormone produced by your pituitary gland is vasopressin, also called anti-diueretic hormone, or ADH. Montana State University explains that your body's normal response to prevent dehydration is to retain water; your pituitary releases ADH to accomplish this. ADH works in your kidneys to increase the permeability of the nephron membranes, or the filtering membranes. When the membranes are more permeable, they allow more fluid to pass through and remain in your bloodstream instead of being excreted as urine. Alcohol suppresses ADH, upsetting the balance of water and thus the concentration of potassium and other ions in your cells.
Effects of Beer
The type of alcohol you drink affects ions differently. Beer has high water content, and a low concentration of soluble nutrients. The alcohol content of beer impairs the normal ADH effect so the high water content of beer is retained in your body, diluting the concentration of ions and causing fluid overload in your bloodstream. The decreased concentration of potassium ions causes hormonal imbalance and thirst, so you want to drink more even though your body already has excess fluid.
Effects of Hard Liquor
Because whiskey and other hard liquors have lower water content than beer, less water enters your body when you drink the hard stuff. The alcohol suppresses ADH, and your kidneys process more water from your bloodstream into urine than you take in, which raises the concentration of potassium and other ions in your bloodstream. This sets up a dehydration effect where your body attempts to dilute the concentrated ion imbalance in your bloodstream by drawing water from cells throughout your body. The resulting ionic imbalance affects individual cells as well as organ function. The fluid shift from cells to bloodstream results in true dehydration.
Sources of Potassium
Eating a variety of fruits, vegetables, milk and meat will give you a balance of vitamins and minerals, including potassium. Bananas, orange juice and potatoes are some readily available, potassium-rich foods. Colorado State University recommends replenishing potassium through diet, not supplements, especially if you have hypertension.