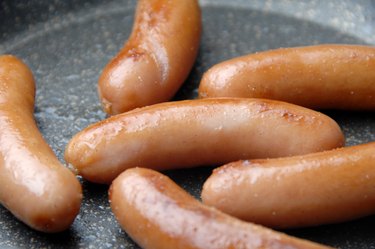 Cocktail wieners, or little smokies, smothered in warm barbecue sauce is a classic party appetizer that's simple to prepare. Little smokies are bite-sized, fully-cooked smoked sausages that only need to be reheated to enjoy. They can be simmered in any type of barbecue sauce on the stovetop, or in a slow cooker which will keep them warm longer and allow the barbecue sauce to thicken up. You can also toss them in barbecue sauce and pop them in the oven, ideal if you don't want them completely smothered.
Stove Top
Step 1
Fill a saucepan about halfway with your favorite barbecue sauce and bring to a medium-low heat on the stove.
Step 2
Drain a package of little smokies of its liquid, then add to the barbecue sauce. They should be fully submerged in the barbecue sauce. Add more sauce if necessary.
Step 3
Reduce the heat so the barbecue sauce is at a simmer and cook for about 15 to 20 minutes, or until the sausages are fully heated through and the sauce has thickened. Serve with toothpicks.
Slow Cooker
Step 1
Place the smokies in your slow cooker insert.
Step 2
Pour enough barbecue sauce to fully cover the little smokies. Stir to fully combine the sausages with the barbecue sauce. Cover with the slow cooker's lid.
Step 3
Set your slow cooker to "high" for up to 2 hours. However, you can serve the smokies from the slow cooker once they are heated through and the barbecue sauce is hot. Serve smokies with toothpicks, but still smothered in the barbecue sauce.
Baked
Step 1
Preheat the oven to 350 degrees Fahrenheit.
Step 2
Drain the little smokies and toss in a bowl of barbecue sauce.
Step 3
Spread the smokies out on a baking sheet and place in the oven. Cook for about 12 to 15 minutes, until they are heated through. Smother them with more barbecue sauce before serving.
Tip
Make your own barbecue sauce for the smokies, starting with equal parts ketchup, brown sugar and apple cider vinegar in the saucepan. From there, you can add more ingredients to your taste, including mustard, molasses, honey, salt, pepper, steak sauce and hot sauce.
Enhance the flavor of the barbecue sauce by adding ingredients such as mustard, grape jelly, chili sauce and diced onions, to your taste. Grape jelly is particularly ideal for a sweet and thick sauce.
Wrap bacon around each smoky and secure with a toothpick and bake them in the oven for 15 to 20 minutes, until the bacon has fully browned.