Probiotics represent a form of supplemental "good" bacteria that inhabit your colon. If you are healthy, follow a well-balanced diet and void of serious digestive disease the use of probiotics is unnecessary. If this is not the case you may benefit from supplemental forms of probiotics in your diet. However, no industry standard exists for dosing per ailment and the duration of using probiotics once the outcome is achieved for whatever you are treating is purely ambiguous. Always consult your physician first before taking a supplement.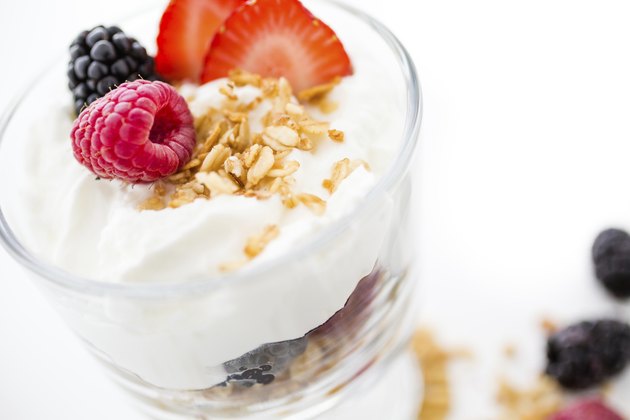 Probiotic Basics
Your colon is host to trillions of bacteria, mostly harmless and serving the purpose of keeping bad bacteria from disrupting digestion or causing infectious disease. Illness, lowered immunity, stress, poor diet or taking antibiotic medications can deplete your healthy gut bacteria thus allowing pathogens to wreak havoc on your colon. Probiotics, supplemental microorganisms similar to your naturally created bacteria, offer an alternative source of boosting colon bacteria in the event your body cannot nurture its own bacteria levels. When probiotics are administered in adequate amounts they are believed to induce health benefits. But limited evidence exists supporting use and the various species and strains may not permit the same benefits per person, notes the National Center for Complementary and Alternative Medicine.
Duration of Use
The exact length of using probiotics is as difficult a question to answer as which forms you should use for specific ailments. According to Harvard Health Publications, daily use for one to two weeks may improve infectious or antibiotic-related diarrhea. The Dairy Council of California explains that most probiotics do not permanently adhere in the intestine, therefore daily consumption is the best way to maintain effective amounts. The short answer of duration of use is "indefinitely." The specific answer lies within a conversation between you and your physician since no standardized recommendation exists.
Effective Probiotic Use
Probiotic containing foods are the recommended source for achieving health benefits. Fermented and non-fermented milk, yogurt, soy beverages and juice drinks often have probiotics added. In choosing a food product look for the label to read "live and active cultures." Probiotics can die in high temperatures so keep food products cold unless product labeling indicates otherwise. In order for the probiotics to effectively colonize your intestines millions to trillions must be in the supplemental product and you may have to consume two or three servings of the food containing the product per day. Check the label for instructions or contact the product manufacturer. Capsule and powder probiotic products should also have label instructions.
Considerations
Probiotics are not intended to cure diseases so do not forgo medical treatment if you have a legitimate medical problem. Use of probiotics may have the side effect of gas or bloating and long-term use safety concerns have not been thoroughly researched. If you are healthy and eat foods with adequate amounts of fiber daily you do not need probiotics to nurture your healthy bacteria. If you have irritable bowel syndrome, inflammatory bowel disease, urinary or bowel disturbance, probiotics may help. However, consult your physician before adding probiotics to your diet.