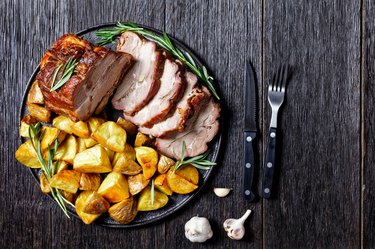 If you're looking to shave some fat and calories from your favorite pork recipe, you can use a pork sirloin roast rather than a pork shoulder roast.
Although fattier cuts of meat like pork shoulder add a bit more flavor, you can save more than 8 grams of total fat and 50 calories for every 3-ounce portion of meat by using a lean sirloin roast instead, according to the USDA.
Slow-cooking a seasoned pork sirloin roast in the oven or in your slow cooker gives you mouthwatering, tender pork that's perfect for slicing or pulling.
Here, Shawn Matijevich, Lead Chef at the Institute of Culinary Education, shares how to cook a boneless pork sirloin roast to tasty, tender perfection.
The Best Pork Sirloin Roast Recipe
Things You'll Need
1 boneless pork sirloin roast

Large roasting pan

1 teaspoon salt (adjust as needed)

2 teaspoons black pepper

1 teaspoon paprika

1 teaspoon ground mustard

1 teaspoon garlic powder

1 teaspoon onion powder

2 teaspoons chili powder

1 tablespoon brown sugar

2 cups apple cider

2 cups apple cider vinegar

3 cloves garlic, chopped

2 teaspoons liquid smoke
If purchased frozen, be sure your boneless pork sirloin roast is fully thawed before cooking. Frozen meat won't heat up quickly enough, which increases the risk of harmful bacterial growth, according to the University of Minnesota Extension.
When the meat is thawed, trim any fat from the outside of the pork sirloin roast before rubbing it with your favorite spice rub. You can purchase one that's premade, or create your own spice rub by combining salt, black pepper, paprika, ground mustard, garlic powder, onion powder, chili powder and brown sugar.
Mix all the rub ingredients together in a small bowl, then coat your pork generously in the rub. For best results, rub the pork up to three days in advance to let the flavors marinate.
Preheat your oven to 450 degrees Fahrenheit.
3. Place the Seasoned Roast in the Oven
Place the rubbed pork roast into a large roasting pan — ideally one that fits the roast with just a little extra room. Place the roast in the oven and cook for one hour, or until it's well browned and a crust has started to form.
4. Remove From the Oven and Lower the Temperature
Remove the roast from the oven and place the remaining ingredients — apple cider, apple cider vinegar, garlic cloves and liquid smoke — in the bottom of the roasting pan.
Lower the oven temperature to 250 F. Slow-cooking the roast at a lower temperature will give you a juicy, tender result.
Tip
If your roasting pan is much larger than your pork sirloin roast, you'll need to double the liquid ingredients in this step to prevent the meat from drying out.
Place foil over the roast and pan, then place it back in the oven. Slow-cook your roast for about four hours, or until fork-tender. Depending on the size, you may need to add or reduce time.
6. Remove the Roast, Rest and Serve
Take the roast out of the oven, remove the foil and let it rest for 10 to 15 minutes. After it's done resting, you can either slice your pork roast or use two forks to pull the meat apart, creating shredded or "pulled" pork.
Sliced pork roast works perfectly alongside veggies like potatoes and green beans for a nutritionally-balanced meal. If you're making pulled pork, combine the meat with your favorite commercial or homemade barbecue sauce, tossing it together to make sure the meat is coated before serving.
Tip
Pork should be cooked to at least 145 F — the minimum safe temperature, according to the Academy of Nutrition and Dietetics. Check the internal temperature of your pork sirloin roast pulled pork by inserting an instant-read meat thermometer into the thickest part.
Other Tips for Cooking a Boneless Pork Sirloin Roast
Of course, there are many ways you can prepare a delicious meal using a boneless pork sirloin roast, and following a few expert tips can help you achieve the best result every time.
Always adjust the seasonings in your rub according to your tastes and health goals. Some people prefer more (or less) salt, for example. When it comes to spices, start with the smallest amount and gradually add in more until you find the flavor you like the best. You can also play around with fresh and dried herbs of your choosing.
You might be tempted to slice your pork sirloin roast right after you take it out of the oven, but letting the meat rest is a crucial step when preparing it. If you cut or pull and serve your meat too quickly, the juices, which are hotter and more liquified, will run out and cause the meat to dry out.
Making a delicious sauce can add more moisture and flavor to your pork. To make your own, combine chicken broth, honey, blackberry or raspberry jam, hoisin sauce, balsamic vinegar, onion and garlic in a medium-sized saucepan and bring it to a boil. Whisk in a slurry made with cornstarch and cold water, then simmer the sauce for about three minutes, until it's slightly thickened.
When you're ready to serve, drizzle the warm sauce on top of your pork (sliced or pulled) and enjoy.