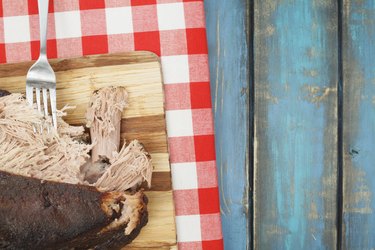 Looking to shave some fat and calories from your favorite pulled pork recipe? Rather than the traditional pork shoulder roast, use pork sirloin roast for your pulled pork.
Although fattier cuts of meat such as pork shoulder add a bit more flavor, you can save more than 8 grams of total fat and 50 calories for every 3-ounce portion of meat by using a lean sirloin roast, according to the USDA.
Slow-cooking a pork sirloin roast in the oven or in your slow cooker gives you mouthwatering, tender pork that's perfect for pulling and pairing with your favorite seasonings.
Pork Loin Roast Pulled Pork
Step 1: Trim Fat and Rub
If purchased frozen, be sure your pork sirloin roast is fully thawed before using your slow cooker. According to the University of Minnesota Extension, frozen meat won't heat up quickly enough, which increases the risk of harmful bacterial growth.
Trim any fat from the outside of the pork sirloin roast before rubbing it with your favorite spice rub.
Use a pre-made dry rub or make your own by combining seasonings such as salt, black pepper, coriander, cumin, oregano, garlic powder, onion powder and cinnamon.
Step 2: Put Pork in Cooker
Place the seasoned pork sirloin roast your slow cooker. If you wish, you can add additional aromatics such as diced onion or garlic to the slow cooker.
Step 3: Add the Liquid
Pour roughly 1 cup of liquid into the slow cooker. You can use any liquid you like, including water, stock, broth or beer.
Step 4: Cover and Wait
Cover the slow cooker and cook the roast on low for eight to 10 hours, or until the pork is tender and is easily shredded with a fork.
Step 5: Rest and Shred
Remove the roast from the slow cooker and set it aside, letting it rest for roughly 10 minutes. Shred the meat using two forks. Toss it with your favorite barbecue sauce and serve.
Oven-Baked Pulled Pork
Step 1: Preheat and Add Garlic
Prep your oven to bake your pork sirloin roast recipe by setting the temperature to 325 degrees Fahrenheit.
While the oven is heating up, prepare the roast by trimming any exterior fat and cutting several slits into all sides of the roast.
Slice garlic cloves into slivers and place slivers into the slits.
Step 2: Add the Seasonings
Mix seasonings and spices together in a small bowl. You can use your favorite barbecue rub, or make your own by combining dried thyme, salt, pepper, cayenne pepper and brown sugar.
Rub the seasoning mixture over the outside of the pork sirloin roast before placing it in a roasting pan.
Step 3: Check the Temperature
Cover the pan with foil and bake the roast for roughly three hours or until the pork is tender. Check the internal temperature of the roast by inserting an instant-read thermometer into the thickest part.
Step 4: "Pull" the Pork
Remove the pan from the oven and let the roast sit for roughly 10 minutes. After removing the aluminum foil, use two forks to pull the meat apart, creating shredded or "pulled" pork.
Step 5: Coat With Sauce
Combine the pulled pork with your favorite commercial or homemade barbecue sauce, tossing it together to make sure the meat is coated before serving.
Things You'll Need
Sharp knife

Spices

Two forks

Barbecue sauce

Meat thermometer
Tip
Check the internal temperature of your pork sirloin roast pulled pork by inserting an instant-read thermometer into the thickest part.
Change the flavors of your pulled pork by cooking it in a sauce made by combining chicken broth, honey, blackberry or raspberry jam, hoisin sauce, balsamic vinegar, onion and garlic.
After removing the roast from the pan or slow cooker, transfer the sauce to a saucepan and bring it to a boil.
Whisk in a slurry made with cornstarch and cold water and simmer the sauce for about three minutes until it's slightly thickened. Toss the sauce with your pork loin roast pulled pork and serve.