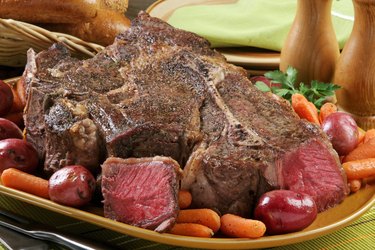 While adequate cooking time is essential for a well-done and flavorful chuck roast, the cooking method and size of the roast in relationship to the pot are equally important. A well-insulated cooking pot with a tight-fitting lid is particularly important for optimum results. And because the connective tissues and marbling of chuck meat require time to break down, braising is the most frequent method of preparation. However, with careful thought and attention to detail, it is possible to prepare and serve a tender chuck roast within a few hours from start to finish.
Step 1
Preheat the oven to 350 degrees Fahrenheit.
Step 2
Wipe the 3 lb. chuck roast with a wet cloth or dampened paper towels. Sprinkle both sides of the roast with salt and pepper and leave at room temperature while you gather the other ingredients.
Step 3
Heat the olive oil in the dutch oven over medium-high heat. Place the roast in the pot and leave it undisturbed until it is a rich, dark brown. Turn the roast and repeat the process until all sides are nicely seared.
Step 4
Remove the meat from the pot and set it aside. Reduce the heat to medium-low and carefully add the wine to the pot. Stir with a wooden spoon to lift the burned bits of meat from the sides and bottom of pot.
Step 5
Add the beef broth, water, onion, garlic, bay leaf and whole cloves to the pot and bring the liquid to a boil.
Step 6
Turn off the burner and return the roast to the pot. Cover the pot with the lid and place the roast on the middle rack in the preheated oven.
Step 7
Braise the chuck roast for approximately two hours or until the meat reaches 170 degrees Fahrenheit.
Things You'll Need
2 tbsp. olive oil

Dutch oven or cast-iron pot with tight fitting lid

Meat fork

Wooden spoon

1 cup dry red wine

2 cups beef broth

2 cups water

2 tsp. kosher salt

1 tsp. cracked black pepper

1 large onion, quartered

4 garlic cloves, peeled

1 bay leaf

3 or 4 whole cloves

2 hot pads or oven mitts
Tip
If you use a pressure cooker, you can prepare a tender and tasty pot roast in approximately one hour.
To cook your chuck roast in a cooking bag, reduce the liquid by half, and bake at 325 degrees Fahrenheit until the meat is fork tender, about 2 1/2 hours for a 3 lb. roast.