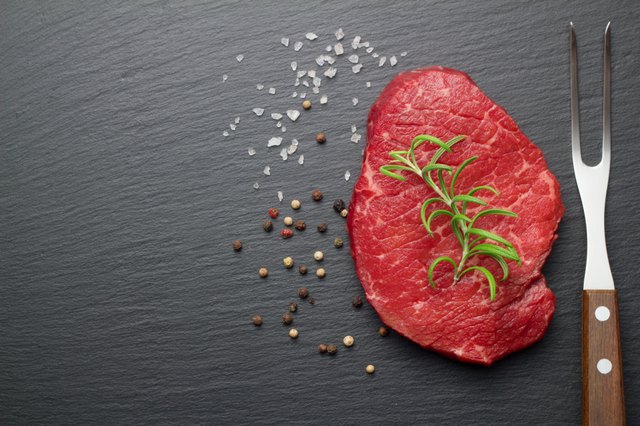 There are many beef steaks available, but filet mignon is the most tender. It is selected and specially cut from the tenderloin in portions that are one to two inches thick. Filet mignon contains less fat marbling than other cuts of steak. To replace the missing fat, filet mignon often is cooked with a slice of bacon wrapped around the outside.
No Slow Cooking
To make juicy filet mignon, cook it on high heat for a short time. Do not slow cook it because the longer it cooks, the drier it gets. Cook it fast on high heat regardless of your cooking method, which may include pan frying, roasting, grilling, or broiling. Slow cooking causes the connective tissue in your steak to gelatinize and turn gray. Filet mignon is at its best when it is cooked rare or medium-rare. If you don't like eating your steak that red or pink, you can cook it longer. Just remember longer cooking decreases the natural juices and flavor of the steak.
On the Grill
If you are grilling your filet mignon, salt and pepper it to taste. Place on the grill for three to five minutes on each side. Your meat will be medium to medium-rare with this time frame. It should reach about 145 degrees Fahrenheit on an inserted meat thermometer.
Delicious Pan Fry
Another way to cook your steak is to put it in a little oil in the bottom of the frying pan. Again, cook it from three to five minutes on each side. A glass of red wine, for example, cabernet sauvignon or burgundy, is a nice touch to your steak dinner.
Don't Lose the Juices
When you check your meat to see if it is done, don't cut into the meat because the delicious juices will escape. Press down on the meat. If your finger leaves an impression and the meat feels very soft, the meat is rare. If it feels soft and supple, it is medium-rare. If it is firm to touch, it is overdone.