Vitamin E is a fat-soluble vitamin that is broken down and stored by fat in your body. There isn't a particular time of day that is ideal for taking a vitamin E supplement, but it does need to be taken with food containing some fat so it can be absorbed by the body. Talk with a healthcare professional before you decide to take a vitamin E supplement.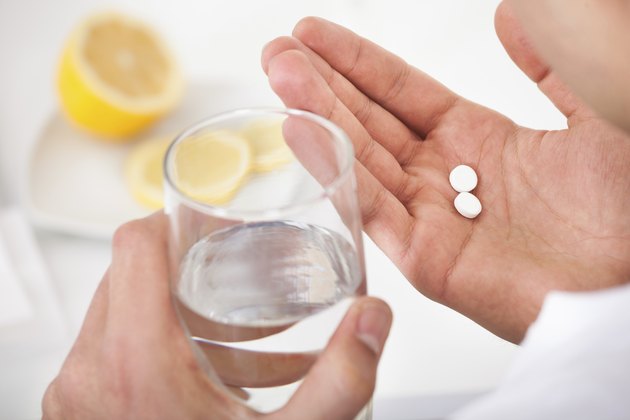 Function of Vitamin E
Vitamin E acts like an antioxidant in your body by fighting off free radicals that wreak havoc on cells. Free radicals are molecules that have an unpaired electron, making them highly reactive. They feed on healthy cells during a series of biochemical processes. Some free radicals are natural byproducts of digestion, but other free radicals come from cigarette smoke, carcinogens from grilling, or other sources. Healthy cells damaged by free radicals can lead to the development of chronic diseases, such as heart disease and cancer, explains the Office of Dietary Supplements. Having enough vitamin E in your diet can be a preventative measure for guarding your body against these illnesses. While it may be beneficial to take a vitamin E supplement, take it with a meal for optimal absorption.
Dosage
Depending on your specific vitamin E supplement, its dose may be measured in mg or IU. After the age of 14 and as an adult, you need 15 mg or 22.4 IU of vitamin E. If you are pregnant, this amount does not increase, but breastfeeding raises your vitamin E need to 19 mg, or 28.4 IU. In the United States, the average adult consumes only about half of the recommended daily amount of vitamin E from food. Since this vitamin is fat soluble, it is difficult to exceed the recommended 15 mg a day from food alone, without consuming an excessive amount of fat, explains the Linus Pauling Institute.
Vitamin E in Supplements
Vitamin E occurs in eight different forms, but alpha-tocopherol is the only one that has enough biological activity in humans to support proper function. All vitamin E in foods is in the form of RRR-alpha-tocopherol, which is not always the case in supplements. If your vitamin E supplement is from a natural source, it probably contains RRR-alpha-tocopherol and may be labeled as d-alpha-tocopherol. Synthetic supplements are labeled all-rac-alpha-tocopherol or dl-alpha-tocopherol, meaning they provide all eight forms of vitamin E. Because about half of this mixture is not usable by the body, the alpha-tocopherol in the blend is not as bio-available as it is in foods or natural supplements.
Absorption
Taking vitamin E on an empty stomach limits its ability to be absorbed. Take your supplements at the same time everyday to help you remember. Since you have to take this supplement with food, swallowing a pill everyday with a meal can help you get into a routine. Your body can only absorb so much vitamin E at once. Split up your doses into two or three servings; take one vitamin pill with breakfast and one with dinner.