Oil, particularly unsaturated oils like canola, olive, peanut, or vegetable oil, go bad quickly. The traditional enemies of oils -- heat, light and oxygen -- can turn it rancid in a short time. While rancid oil may taste bad, it doesn't normally make you sick, at least not in the short term. Rancid oil does contain free radicals that might increase your risk of developing diseases such as cancer or heart disease down the road. Rancid oils that contain low-acid vegetables such as garlic or other herbs and spices could cause botulism, but it's the vegetables, not the oil, that cause the illness.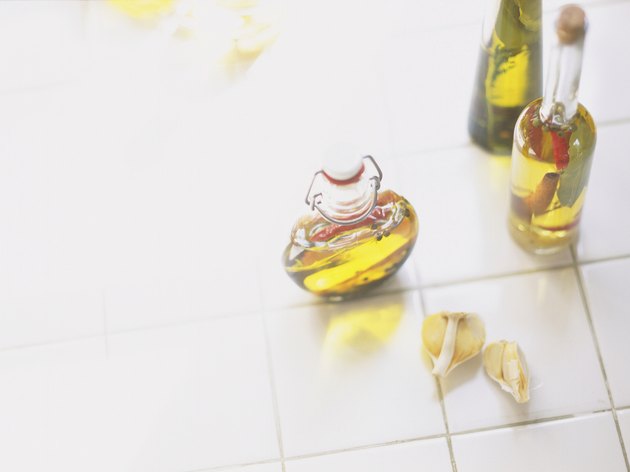 Chemical Damage
Rancid oils may produce damaging chemicals and substances that may not make you immediately ill, but can cause harm over time. Chemicals such as peroxides and aldehydes can damage cells and contribute to atherosclerosis. Free radicals produced by rancid oil can also damage DNA in cells. Produced by toxins as well as by normal bodily processes, free radicals can cause damage to arteries as well act as carcinogens, substances that can cause cancer.
Flavored Oils
Low-acid vegetables can contain Clostridium botulinum spores. When kept at room temperature in anaerobic conditions, which means a lack of oxygen, the spores can grow. When you put low-acid vegetables such as garlic, peppers or eggplant in oil, air can't reach the vegetable. If you don't eat homemade flavored oils within a day or two, or 10 days if you refrigerate them, according to Colorado State University Extension, you could develop botulism, a potentially life-threatening disease that cause blurred vision, speech difficulty and paralysis. Rancid oil indicates that the product may not have been properly stored, increasing the risk of botulism.
Prevention
To properly store oils so they don't go rancid so quickly, store them in a dark, cool place, especially after opening. You can check for rancidity before using by smelling the product, but don't use the smell test to check for botulism. Clostridium botulinum spores do not change the smell or taste of the food. Don't use oil for cooking more than once. Don't use iron or copper pots or pans if you plan to reuse oil, since these substances accelerate rancidity, Columbia University's Health Q&A Internet Service, "Go Ask Alice" suggests. The higher the temperature used for cooking, the more likely oil will turn rancid.
Considerations
Unopened oil should stay safe to use for two to six months; unopened oils may stay fresh for just one to three months, according to registered dietitian Sharron Coplin of Ohio State University Extension. Rancid oil starts to smoke at a lower heat than oil that hasn't turned rancid, and may also look darker than normal. The oil may taste bitter, stale or "off."