Nuts and seeds are a favorite snack food. Many of the nuts or seeds consumed for snacks, however, are candied, salted or coated with chocolate or other candy. Both nuts and seeds are packed with healthy nutrients. Still, many people struggle with sticking to a serving size, which is commonly said to be one "handful" -- too vague a measurement to convey the appropriate serving.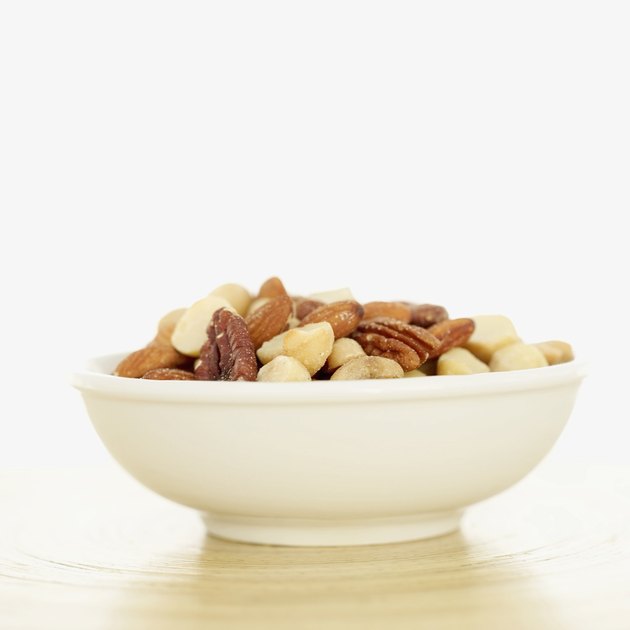 Serving Size of Nuts
A handful of nuts is equal to about 1 oz., which corresponds to a standard serving size on many packages of nuts. Looking at the actual number of nuts in a serving, 14 shelled walnut halves and 24 shelled almonds equal one serving. Other measures of serving size by number include: 16 cashews, 28 peanuts and 45 pistachios. The U.S. Food and Drug Administration recommends 1.5 oz of nuts a day, roughly equal to 1/3 cup.
Serving Size of Seeds
Flaxseeds, pumpkin seeds and sunflower seeds are nutrient-dense and great for adding to salads or for a snack. The general serving size for seeds is 28 g, or 1 oz. A relatively small serving of 1 oz. of seeds provide roughly 12 g of unsaturated fat and around 150 calories. Other seeds to eat include hemp, chia and sesame seeds.
Health Benefits
While seeds and nuts are quite high in calories and fat, most of the fat comes from heart healthy monounsaturated fat. According to the Cleveland Clinic, the monounsaturated fat found in nuts help reduce bad cholesterol levels. Other benefits of nuts and seeds include high amounts of vitamin E and B, as well as zinc, selenium and certain amino acids. Nuts and seeds are also considered excellent sources of disease fighting antioxidants.
Tips for Adding Nuts and Seeds to Your Diet
Nuts and seeds are great as a quick snack, but there are many other ways to include them into a balanced diet. Cashews and peanuts are great in stir-fry; slivered almonds are excellent on ice cream or salads, and any nuts go well in trail mix with dried fruit and chocolate chips. Seeds and nuts can also be toasted and added to salads, sauces, baked goods; nut butters can be added to fruit or multigrain bread for a great snack.