Timing your meals and how often you eat depends on your activity level, time frame and nutritional requirements. Having certain conditions, such as diabetes, may require you to follow a strict diet plan and eat at the same times everyday to stabilize your blood sugar levels. Additionally, if you are an athlete or work out vigorously, you may need to eat more often than someone who is sedentary. Meet with a registered dietitian; she can help you put together a meal plan and frequency that fits your specific needs and lifestyle.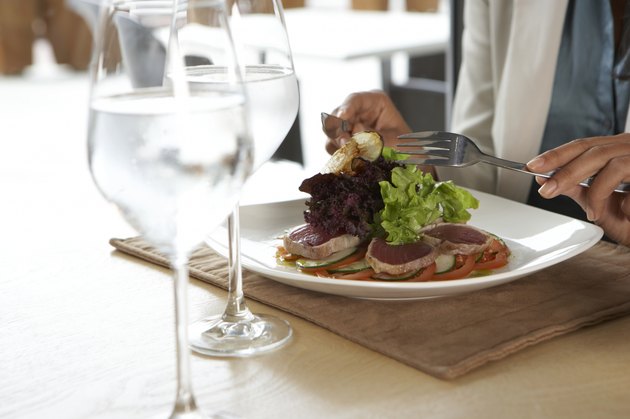 Basal Metabolic Rate
Your basal metabolic rate, also called resting metabolic rate, is the number of calories your body uses while at rest for digestion, breathing and other autonomic systems. About 10 percent of the calories you consume go towards digestion and absorption of nutrients. Additionally, age, sex, body size, body composition and activity level affect your BMR. You may have a high activity level, requiring several meals throughout the day or have a slow-paced sedentary lifestyle, in which you eat only a few meals per day. Either way, it is important to space out your meals with similar time intervals, such as every four or five hours, so your body has adequate calories for daily functions.
One Meal Per Day
One study conducted by the Beltsville Human Nutrition Research Center in Maryland and published in the "American Journal of Clinical Nutrition" in 2007 evaluated health effects of one meal per day versus the more traditional three meals per day. Research participants consumed all of their calories at once, or split them up into three separate meals. They followed one meal plan for eight weeks and then switched over to the other meal plan. At the end of the study, participants following the one meal per day plan noticed a slight decrease in weight. On the negative side, researchers noted that consuming all of your calories in one meal can increase your blood pressure and total cholesterol. Since the negative effects may outweigh the possible weight loss benefit, check with your physician to see if this type of meal frequency is suitable for you.
Three Meals Per Day
Researchers at the University of Wisconsin published research in the "Journal of Undergraduate Research" in 2003 that discussed possible effect of three meals per day versus a higher meal frequency on resting metabolic rate. Researchers hypothesized prior to the study that research participants that had a high meal frequency may also have a high RMR, or increased need for calories. At the conclusion of the study, researchers observed no difference in RMR for participants that consumed about three meals per day versus those who ate more often. Limiting your meals to only one or two per day, may cause you to overindulge or binge eat, increasing risk of weight gain. If you have a regular work schedule, regulating your meals to three separate times throughout the day may be your best option. Eating breakfast first thing in the morning, lunch several hours later and dinner at a similar time interval, helps supply a steady stream of calories for your daily activities, as well as RMR.
Five or Six Daily Meals
Additional research conducted at the University of Nottingham in the United Kingdom and published in the "The American Journal of Clinical Nutrition" in 2005 looked into health effects of consuming several small meals daily. Researchers noted that eating regularly throughout the day, about six small meals, can help lower harmful low-density lipoprotein (LDL) cholesterol in addition to total cholesterol levels. Additionally, this type of meal plan can help regulate insulin responses, keeping your blood sugar stable. Although these potential benefits may stem from eating several small meals daily, researchers added that you need to eat at regular times. For example, your ideal meal plan may include breakfast, a mid-morning snack, lunch, mid-afternoon snack, dinner and a late night snack, all within three or four hours of each other.