Not all fats are bad for you. Not only is olive oil OK to eat if you have high blood pressure or high cholesterol, it may help prevent high blood pressure and reduce cholesterol. You get olive oil by pressing whole olives, and there are different types of olive oil, based on the different extraction methods. Cold-pressed extra virgin olive oil is the least refined and will deliver the greatest number of health benefits, especially for those with hypertension and high cholesterol.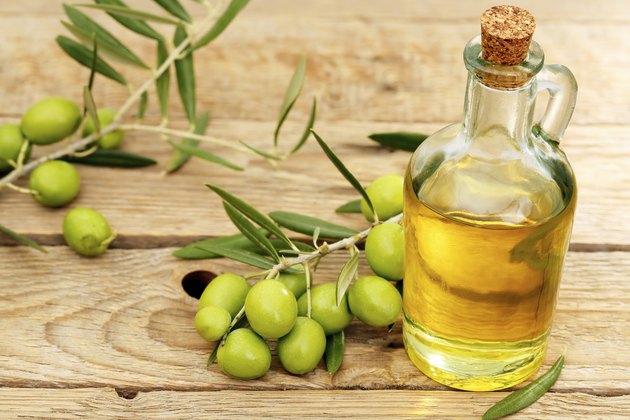 Blood Pressure
Studies show that olive oil plays a role in preventing high blood pressure but not in treating high blood pressure. A 2004 study published in "Clinical Nutrition" monitored the effects on blood pressure of extra-virgin olive oil on elderly patients who were medically treated for high blood pressure. Some of the elderly patients with high blood pressure took extra-virgin olive oil, while others took sunflower oil. After four weeks, results showed that extra-virgin olive oil reduced blood pressure more than sunflower oil did. This suggests that supplementing your diet with extra-virgin olive oil may help prevent high blood pressure and may even reduce high blood pressure.
Cholesterol Levels
Although high cholesterol levels are associated with consuming too much fat, the fat in olive oil is actually a "good" fat because it helps eliminate the "bad" fat that increases cholesterol levels. In a 1992 study published in the "European Journal of Clinical Nutrition," scientists had participants first consume a diet rich in butter, which is full of saturated ("bad") fats and then an olive oil-enriched diet, which is rich in monosaturated ("good") fats. Researchers found that the participants' excretion of cholesterol increased when they switched to an olive-oil enriched diet. They concluded that olive oil plays a role in lowering low-density lipoproteins, which form the "bad" cholesterol.
Type of Olive Oil
Tom Mueller is the author of "Extra Virginity: The Sublime and Scandalous World of Olive Oil." In an interview on National Public Radio, Mueller emphasized that extra-virgin olive oil produces the greatest results in lowering cholesterol. It is made by crushing, which is also called pressing, the olives and not refining it any further or processing it with chemicals and heat. This way, the oil retains a greater number of antioxidants that benefit the cardiovascular system. Because it would take a lot more calories to get the same health benefits, extra-virgin olive oil is much healthier than regular olive oil. Mueller warns that you should avoid olive oil labeled as "light" because it is more refined.
Consuming Olive Oil
Because olive oil is high in calories, do not consume more than the recommended serving. The best way to incorporate olive oil into your diet to lower blood pressure and cholesterol is to use it as a replacement for butter and other fats. Instead of using vegetable oils for baked goods, you can use olive oil. You can use it to saute vegetables, but you should not use it for frying.