With its healthy fats and disease-fighting antioxidants, olive oil is a wholesome addition to your diet. While no official dosing instructions exist, 1 tablespoon per day will increase your intake of some important nutrients. Excess calories may lead to weight gain, however, so compensate by cutting a serving of fat -- such as the pat of butter on your toast -- from your diet to help spare your waistline.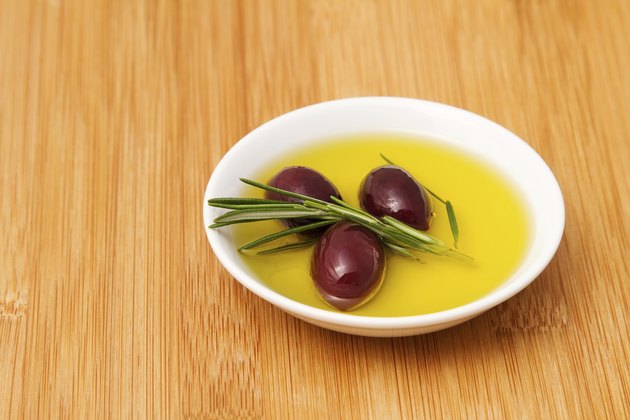 A Healthier Heart
Olive oil is rich in monounsaturated fat, which is liquid at room temperature but solidifies when you place it in the refrigerator. Monounsaturated fats reduce levels of "bad" LDL cholesterol, which can cause plaque buildup in the arteries. This plaque can lead to blockages that cause heart attack and stroke, and reducing LDL cholesterol can help preserve your cardiovascular health. Monounsaturated fats may also help increase levels of "good" HDL cholesterol, which is shown to help prevent heart attacks.
Banished Blues
The benefits of monounsaturated fat may not stop with your heart. The fat in olive oil also could help prevent depression, according to a study published in "PLOS One" in 2011. Researchers followed more than 12,000 Spanish university graduates for an average of six years, monitoring their intake of a variety of different fat sources. They found that those who consumed more monounsaturated fats and polyunsaturated fats -- found in corn and safflower oils as well as fatty fish like salmon -- were less likely to be diagnosed with depression, and the effect was strongest with monounsaturated fat.
Reduced Inflammation
Olive oil is rich in antioxidants called polyphenols, which may help prevent inflammation, according to an article published in "Current Pharmaceutical Design" in 2011. The authors noted that the phenolic compound oleocanthal, in particular, may have an anti-inflammatory effect similar to ibuprofen. This means olive oil may help protect against inflammation-related illnesses such as diabetes, cancer and degenerative joint and brain diseases. Oleocanthal is a relatively new discovery, however, so scientists are still exploring its potential role in inflammatory disease prevention.
Wise Choices
Not all olive oils are created equal, as polyphenol content varies from bottle to bottle, according to Katherine Tallmadge, a registered dietitian. She notes that most commercial olive oils have low levels of polyphenols and that you'll get optimal nutrient content from fresher products. Choose extra-virgin olive oil for the highest polyphenol load, and look for one with a harvest date that falls within a year of purchase.