Bench pressing remains one of the most popular upper-body exercises, and training the bench press develops the strength of your chest, shoulders and triceps. The amount that you bench press often determines how coaches rank your upper-body strength. While many other exercises train more important muscle groups and have greater sport-specific application, improving your bench press will help you develop muscle and power. Consult a health care professional before beginning any strength-training program.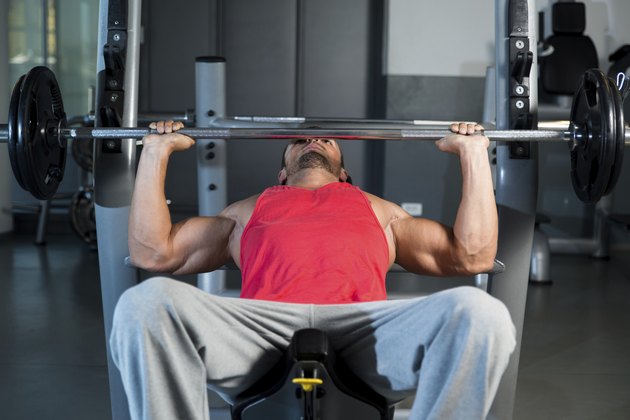 Novice Lifters
A novice lifter can be considered one who has trained regularly for three to nine months. Learning to bench press is like learning any other skill -- you improve with practice. If you have been training less than a year, you have had time to learn proper technique, but not master it. You have also had time to build strength and gain lean muscle mass. Much of your early gains come from improvements in motor skills, according to a 1992 study published in the "European Journal of Applied Physiology and Occupational Physiology." If you are man, you should bench press just under 80 percent of your body weight. A novice female should bench just over 60 percent of her body weight, according to Dr. Lon Kilgore, Ph.D., author of "Practical Programming."
Intermediate Lifters
As an intermediate male you should bench between 95 and 100 percent of your body weight. As an intermediate female you should bench just over 70 percent of your body weight. Intermediate lifters have been training between nine months and two years. This allows you time to not only develop skill, but also build muscle. Both skilled lifting and muscle size contribute to strength, so the practice you have been putting in will help develop both. Consistent training combined with a proper diet may lead to increases in lean muscle mass, which may mean a weight increase. This may be something that needs to be factored into your performance.
Advanced Lifters
People who are advanced lifters are long-time lifters or athletes. This involves years of dedicated and focused training coupled with competitive goals -- some of which should have been met. As an advanced male lifter you should bench at least 130 percent of your body weight. As an advanced female lifter, you should bench at least 90 percent of your body weight. Time, training and discipline have combined in advanced lifters to build muscle, reduce fat and reach optimal levels of strength, skill and power.
Elite Lifters
Elite lifters are strength athletes -- not someone who lifts for another sport, but those who compete in strength sports such as powerlifting or the Highland games. These athletes have dedicated years to the sole pursuit of getting stronger -- and it shows. Elite male lifters you should bench press at least 165 percent of body weight, and elite females should bench press at least 110 percent of body weight. Top powerlifters will bench over three times their body weight in lower weight classes, regardless of gender, but these are the elite of the elite. It can take years to advance to the elite level.