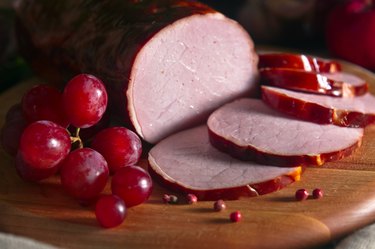 Get your next ham dinner into the oven and onto the table fast with a spiral cut ham. A boneless spiral cut ham is a precooked and presliced ham that is easier to carve at serving time. While a normal ham would take hours to cook, a spiral cut ham can be completely cooked in less than 90 minutes without any special tool. Cooking the ham at the very low temperature of 270 degrees Fahrenheit ensures that it is tender and flavorful.
Making Glaze
Step 1
Place ½ cup apricot jam in a small saucepan, and turn the heat to medium. Heat the jam -- stirring often – until it becomes completely liquefied.
Step 2
Pour the jam into a sieve positioned over a small bowl, and toss out any of the solids that are left over.
Step 3
Pour in 2 tbsp. Dijon mustard, ¾ cups maple syrup and 2 tbsp. dark rum, stirring as each of the ingredients are added
Step 4
Mince a single clove of garlic to a very fine consistency, and add it to the bowl of glaze ingredients. Stir the glaze until the garlic is blended in well.
Cooking Ham
Step 1
Preheat your oven to 270 degrees Fahrenheit, and place a rack inside a large roasting pan.
Step 2
Place the ham on a rack, and cover the top of it with foil, making sure that there are no holes present.
Step 3
Allow the ham to cook for 30 minutes, and remove it from the oven. Apply the glaze to the ham, and place it back into the oven. While the ham finishes cooking, add glaze every 15 minutes.
Step 4
Cook the ham until it reaches an internal temperature of 160 degrees Fahrenheit. To check the temperature, insert a meat thermometer into the center of the thickest part of the ham. The ham should take an additional 30 minutes to an hour to reach the proper temperature.
Step 5
Apply the glaze once more, and serve the ham while it remains hot.
Things You'll Need
5-lb. boneless, presliced ham

½ cup apricot jam

Sieve

2 tbsp. Dijon mustard

¾ cup maple syrup

2 tbsp. dark rum

1 clove garlic

Roasting pan

Roasting rack

Aluminum foil

Meat thermometer