Rice is a low-cost, fat-free and cholesterol-free food. Rice with a removed husk, germ and bran is known as white rice. When cooking white rice for multiple people, you must consider the serving size of the rice before and after rice is cooked. One serving size of cooked white rice equals a 1/2 cup. Three cups of cooked white rice is equivalent to 1 cup of uncooked white rice. When cooking for two, decide how many servings of white rice each individual wants. If you and your guest would like one serving each of white rice, you will start by cooking 1/3 cup of white rice, making 1 cup of cooked white rice or 1/2 cup white rice for each person.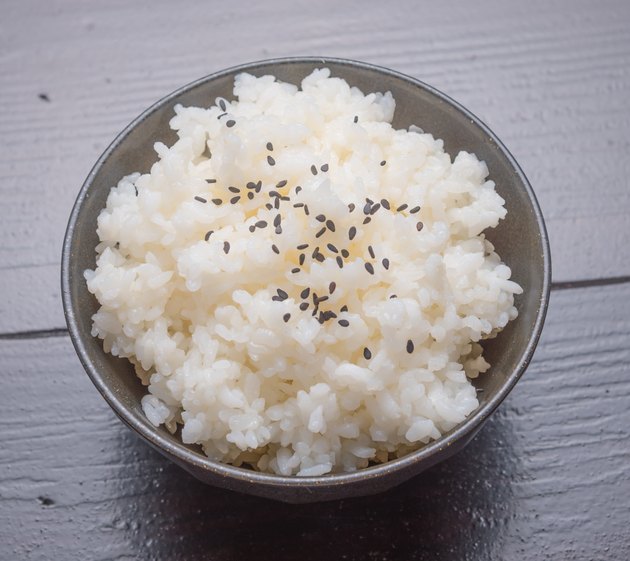 Step 1
Combine the uncooked white rice, water, salt and butter in the sauce pan. The salt and butter are optional ingredients and can be added to suit your taste.
Step 2
Heat the stove and bring the mixture in the sauce pan to a boil. Stir the mixture a couple of times to prevent rice from sticking to the bottom of the pan.
Step 3
Cover the sauce pan with a tight-fitting lid, and reduce stove heat.
Step 4
Bring the mixture to a simmer. Allow rice to cook for 15 minutes.
Step 5
Check the water quantity in sauce pan and the texture of rice. If water has not been absorbed or if rice is still tough or hard, continue to cook for two to three minutes.
Things You'll Need
1/3 cup white rice

1 tsp. butter or margarine

2/3 to 1 cup water

1/4 tsp. salt

2-qt. sauce pan

2 serving bowls
Tip
Rice stores in the refrigerator for up to a week. If you are unsure how much white rice you want to eat, overestimate the desired amount of white rice and store the rest in the refrigerator.
Warning
Do not wash white rice if you bought the rice packaged. Because white rice is enriched with nutrients, washing white rice before cooking may rinse away some of these nutrients.