When you wake up with the telltale splitting headache and debilitating nausea of a hangover, you may be willing to try nearly anything to get rid of the symptoms. Old wives tales of drinking more alcohol and eating raw eggs may not be as effective as getting up and moving your body. While exercise won't cure your hangover completely, it can counteract some of the side effects of too much alcohol so you get over your hangover feeling faster.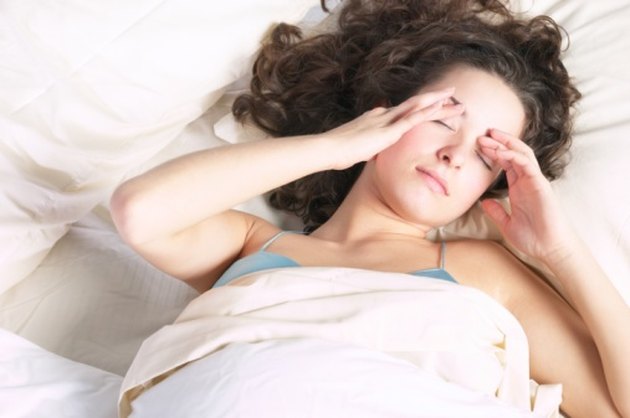 Symptoms
The morning after a long night of drinking is when you really pay for alcoholic overindulgence. You'll likely way up with a headache, dizziness and nausea, all of which can contribute to a lack of energy and overall sense of illness. A hangover can also cause your looks to suffer, thanks to the dehydrating effects of alcohol to your skin and hair. Exercising may be the last thing on your mind when you wake up with hangover symptoms, but it can help you feel better faster to get back to normal.
Exercise Effects
Alcohol acts as a depressant to your body, which means it slows brain activity. This also slows the release of endorphins, the feel-good hormones that can help regulate your mood. Because of this effect, you may wake up the next morning feeling tired, lackluster and depressed. Moving your body and getting some exercise, even when you don't necessarily feel like exercising, can help stimulate the release of endorphins again, resulting in a better mood and a better state of mind as you recover from your hangover.
Healthy Exercise
It may not be wise to go for a strenuous run after you've overindulged in alcohol. Your exercise could exacerbate your nausea, making you feel worse. Instead, look for low-intensity methods of exercise that can help restore your mood and energy without making you feel sick. Yoga, gentle stretching, light aerobics, dance and swimming can all help you feel better without making your hangover symptoms worse. Listen to your body and stop if you feel sick, dizzy or your headache becomes worse.
Hangover Hydration
While exercising, it's imperative that you hydrate your body properly. Alcohol can have a dehydrating effect on your body, which means you could suffer from exercise-induced dehydration more quickly than normal. Keep a water bottle nearby and drink at least 7 to 10 oz. of water every 10 to 20 minutes that you exercise. You'll also want to continue drinking water throughout the day to help reduce your hangover symptoms.
Is This an Emergency?
If you are experiencing serious medical symptoms, seek emergency treatment immediately.