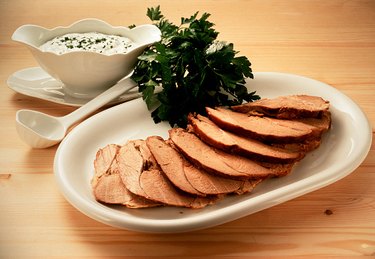 Slow cooking is a great method of cooking when you want a hot, delicious dinner without a lot of work. Preparation time is minimal and it allows you to go about your daily business while your dinner is cooking. Lamb is a nutritional meat, high in zinc and iron. It also has a good amount of protein and is relatively low in calories and fat, though it is a red meat. Lamb is high in B vitamins and a great source of carnitine, an amino acid needed for energy. Roasting a leg of lamb in a slow cooker results in a moist, tender piece of meat. It can be served alongside potatoes, rice, pasta or vegetables.
Step 1
Preheat a cast iron skillet with 2 tbsp. olive oil over medium heat.
Step 2
Season the lamb with salt and pepper to taste.
Step 3
Brown the lamb on all sides, using tongs, for approximately five or six minutes.
Step 4
Slice the onion, cut the celery into chunks and place them on the bottom of the slow cooker.
Step 5
Pour the white wine and 1 cup of the vegetable stock over the vegetables.
Step 6
Evenly sprinkle half of the minced garlic and half of the rosemary into the liquid.
Step 7
Put the lamb into the slow cooker on top of the vegetables and pour the rest of the vegetable stock over the top of the lamb.
Step 8
Sprinkle the lamb with the rest of the garlic and rosemary.
Step 9
Cover and cook on high for three to four hours, until the internal temperature of the lamb reaches 145 degrees F.
Things You'll Need
Cast iron skillet

2 tbsp. olive oil

½ leg of lamb

Sea salt

Ground black pepper

Tongs

Knife

1 small onion

1 stalk of celery

¼ cup white wine

2 cups vegetable stock or broth

2 tsp. minced garlic

1 tbsp. dried rosemary

Meat thermometer
Tip
Leftover lamb can be frozen for up to two or three months or refrigerated for three to four days.
Use red wine as a substitute for white wine.
Place chunks of potatoes on the bottom of the slow cooker, instead of vegetables.