Every single cell in your body is made up of water, for the most part. When you're weight training, you're probably sweating and losing some of the water in your system, which can inhibit cellular functions and make you tired. You need to drink enough to replace any fluids you lose, so you don't become dehydrated. Odds are that if you're feeling thirsty while you're at the gym, you're already on the road to dehydration and need to fill up your water bottle.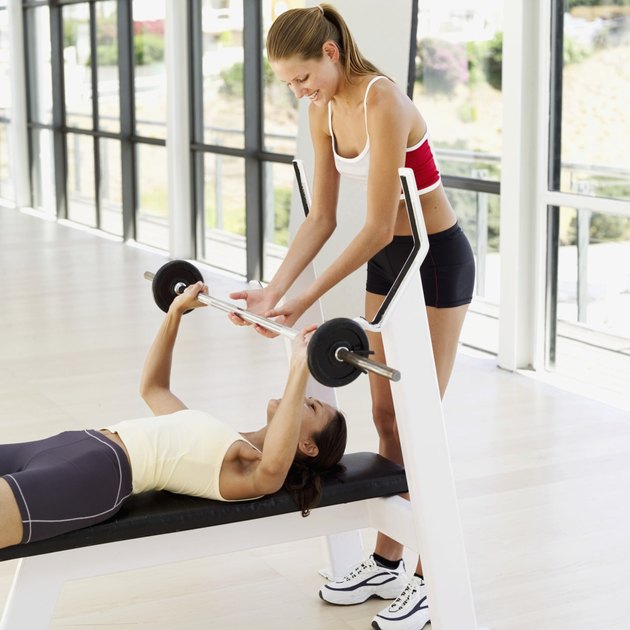 Meeting Basic Needs
You need a certain amount of fluid each day just to run digestive processes, maintain your blood volume, help with nutrient transportation and perform other day-to-day functions. While it's difficult to determine an exact amount, the Food and Nutrition Board of the Institute of Medicine established a basic recommendation for these processes to work correctly. Adult men should aim for 3.7 liters -- 125 ounces -- every day. If you're female, you need 2.7 liters, or 91 ounces, daily.
Recommendation for Weight Training
When weight training, you'll need to go above the general recommendation and get even more liquid into your system. As an athlete with a large amount of muscle mass, you should drink roughly two-thirds of your body weight in ounces each day, according to the PBS website. This recommendation is the same for both genders. For example, if you weigh 150 pounds, your goal should be getting around 100 ounces of fluid each day. If you're closer to 200 pounds, aim for about 134 ounces daily.
The Food Factor
Not all of your fluid intake has to come from plain old water. All beverages, including sports drinks and 100-percent juices, count toward your water recommendation. Even foods can help keep you hydrated, particularly if they're high in moisture, like soups, fruits and vegetables. Moisture and liquid from food make up as much as 20 percent of your fluid consumption. So that post-workout piece of fruit you nibble on can help replace some of the fluids you lost while you were lifting.
When You've Had Enough
Athletes, particularly endurance athletes, are sometimes prone to drinking too much water. If you go way overboard, you'll dilute your blood, causing an imbalance in electrolytes. This impacts your muscles and heart rhythm. You'll start to feel light-headed and have difficulty lifting weights; in severe cases, you could pass out. Pay attention to your urine color when you go to the bathroom. If it's clear, you're most likely drinking too much and need to slow down.