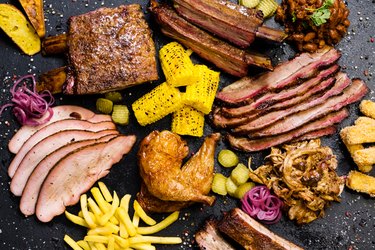 When you cook brisket, you don't just cook brisket; you cook a whole brisket menu. Here are some suggestions for brisket sides that can help you put together a healthy but scrumptious brisket menu.
Tip
Brisket sides include typical barbecue side dishes, among other options.
Brisket is actually the term used to refer to a specific cut of beef, taken from the breast or lower chest of the animal. It is traditionally cooked in a smoky, barbecue-style manner over a period of a few hours, so that the meat gets tender and juicy. While brisket and barbecue side dishes can sometimes be quite unhealthy, here are some options that can boost the nutrition quotient of your meal.
Sweet Potato Salad
While potato salad is among the most popular barbecue side dishes, LIVESTRONG.com lists a recipe for a healthier, mayo-free alternative. The Harvard T.H. Chan School of Public Health notes that sweet potatoes are rich in phytochemicals like anthocyanins and beta-carotene, in addition to other nutrients like potassium, vitamins B6 and C and fiber.
Follow these steps to make this healthy and delicious brisket side:
Roast the sweet potatoes: Cut five sweet potatoes into cubes, brush them with olive oil and roast them in a preheated oven at 400 degrees Fahrenheit for 30 minutes. Turn the potatoes every now and then so that they cook evenly. Take them out of the oven once they're lightly crisp and let them cool.
Dress them: Make a dressing of olive oil, lime juice, honey, salt and pepper. Add it to the sweet potatoes along with some chopped cilantro and scallions. Make sure the potatoes don't get all mushy when you toss them. Serve the salad warm or at room temperature.
Almond String Beans
String beans, also known as green beans, are another nutritious option for your brisket menu. Follow this quick LIVESTRONG.com recipe to make this dish in just 10 minutes. You will need roughly 15 green beans and 10 almonds for each serving; you can calculate the total number of servings depending on how many people you're expecting.
Chop the ingredients: The Texas A&M University recommends picking beans that are smooth, slender, crisp and bright green in color. Wash them well and remove the ends. Chop the beans into 2-inch long pieces. Chop the almonds into slivers.
Steam the beans: Steam the beans in a skillet on the stove for around five minutes.
Toss with almonds: Toss the beans with the slivered almonds for that extra crunch.
The Texas A&M University notes that green beans are a good source of dietary fiber. They also provide calcium and potassium and are naturally low in fat, calories and sodium. Cooking green beans may amplify their nutrition; a December 2017 study published in the International Journal of Food Sciences and Nutrition found that cooking green beans enhances their antioxidant content.
Squash "Macaroni" Salad
Macaroni salad is another popular side dish; however, it is usually includes pasta that has been made with refined flour. This LIVESTRONG.com recipe substitutes pasta with squash for a healthier alternative. Follow these steps to make the salad:
Cut the squash into macaroni shapes: Use summer, crookneck and straightneck squashes. Trim the ends, then cut each squash in half, length-wise. Use a spoon to scrape out the seeds in the middle, to form a boat shape. Cut the boat-shaped piece of squash into thin slices that look like macaroni. You need about 2 cups of macaroni-shaped squash.
Boil the squash: Fill a medium-sized saucepan with water until it is three-quarters full. Bring the water to a boil over high heat, then add the squash pieces and cook them for three to four minutes, until they are cooked but firm.
Add salt: Drain the water from the squash and sprinkle it with a little salt. Let it chill, then drain away the water once again.
Make the dressing: Whisk together 3 tablespoons of mayo, 1 teaspoon of rice vinegar and a dash of salt and paprika. Stir in some gherkins.
Combine the ingredients: Mix together the squash, the dressing, some roasted bell pepper and some scallions. Add hard-boiled eggs and a pinch of salt and toss lightly.
Adding hard-boiled eggs gives the salad an extra boost of protein and nutrition. A March 2019 study published in the journal Nutrients notes that eggs provide animal protein, calcium, potassium, phosphorus, iron, copper, manganese, magnesium, zinc, selenium and all the vitamins, except vitamin C.