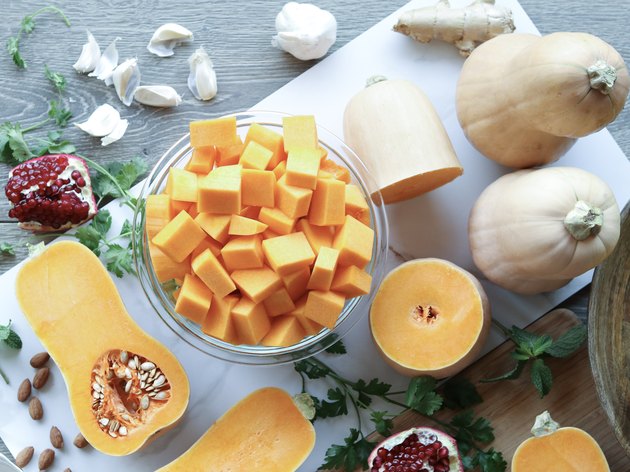 Now that there's a chill in the air, you might have noticed butternut squash popping up in the grocery store and at your farmer's market. If you haven't cooked with the thick-skinned gourd before, don't worry — it's easier to prep and cook than you might think. After putting a little muscle into cutting the squash in half lengthwise with a sharp knife, it's smooth sailing and totally worth it considering butternut squash has been reported to have anti-inflammatory and antioxidant benefits.
Butternut squash is incredibly versatile in the kitchen, and it's mild flavor pairs beautifully with stronger flavors such as figs, turmeric, ginger and more. Check out these drool-worthy recipes that are sure to become your all-time favorite fall staples.
1. Plant-Protein Powered Butternut Mac & "Cheese"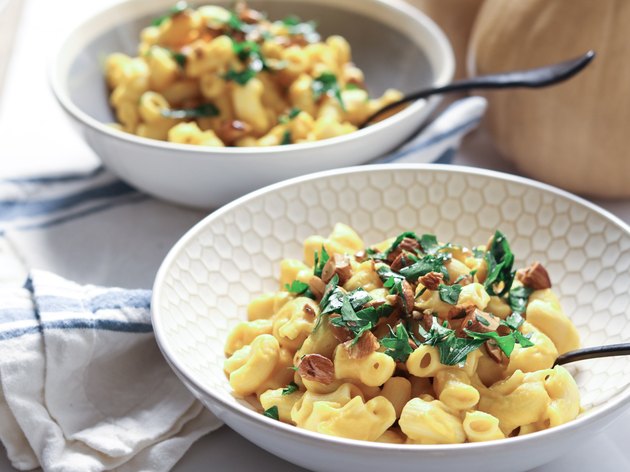 Unlocking the powers of umami, the fifth taste that signals savory, is the secret to this plant-based mac and cheese. Roasted garlic, nutritional yeast, lemon juice and turmeric all do their part in "tricking" the taste buds into making you think you're eating cheese, while the orange color from the butternut squash and turmeric help trick the eye, too.
There are no tricks about adding black pepper to boost the absorption of the potent antioxidant curcumin (the bioactive component of turmeric) by 2000 times. The Banza macaroni used here has double the protein and four times the fiber of regular pasta, thanks to the power of chickpeas. The almond topping adds a satisfying protein-filled crunch while the parsley lends a lovely herbaceous flavor to the dish.
2. Butternut Squash, Balsamic, Fig & Goat Cheese Pizza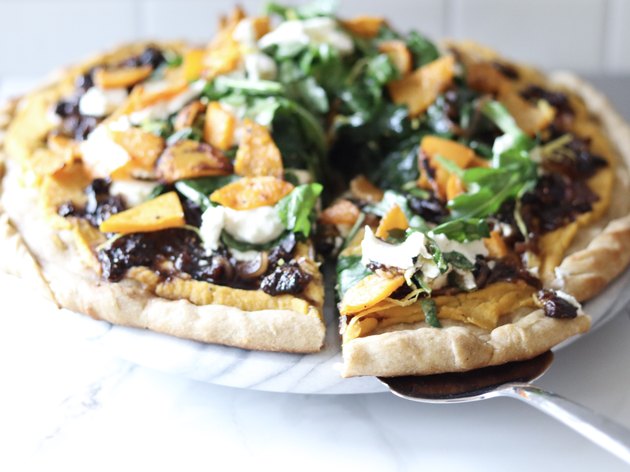 This dish turns pizza night into a healthy affair. What will make this non-traditional pie your new go-to is the combination of naturally sweet figs and balsamic plus the bright notes of creamy goat cheese and peppery arugula. An earthy butternut squash sauce anchors each delicious slice with a secret ingredient: butter beans, which provide a plant-based protein bonus.
For safe handling of butternut squash, we recommend drying your hands, cutting board and squash from time to time to prevent slips and knife accidents. Don't worry about perfectly chopping the squash given that the majority of it gets blended in this recipe.
3. Fancy Butternut Squash Toast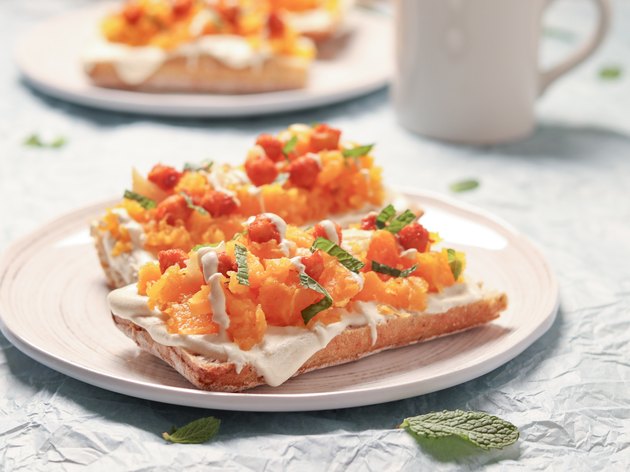 Whether it's for breakfast, lunch or dinner, ideally you'll use last night's butternut squash to top this toast. But if you don't have any leftovers, the good news is roasted squash is only 20 minutes away. There's some Korean influence in this recipe with gochujang-spiced chickpeas, but if you don't have any of the fermented red chili paste, you can sauté your chickpeas in chili powder or whatever hot sauce you have on hand.
Peeling squash is a snap when you have the right tool. We recommend the humble but indispensable Y-peeler. They typically only run a few dollars, or you can splurge on a top of the line Y-peeler like this $20 one from Kuhn Rikon (it's our favorite).
4. Creamy Vegan Curry-Ginger Butternut Squash Soup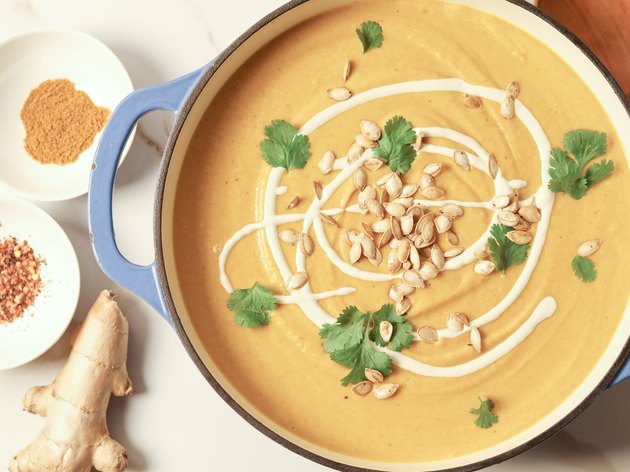 This soup is everything you want on a chilly day. Whether you're feeling great and would like to keep it that way, or you're under the weather, this one-pot meal is always a good idea (and it freezes well so you can always have a stash on hand). A cup of butternut squash has four times the daily recommended amount of antioxidant vitamin A. It also provides 80 percent of your daily recommended amount of immune-boosting vitamin C.
5. Bejeweled Stuffed Butternut Squash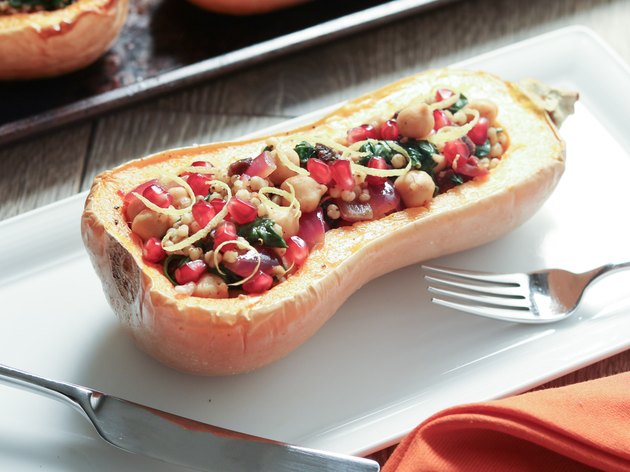 This stuffed butternut squash is as pretty as it is delicious. It celebrates all the beautiful flavors of fall and winter, including hearty whole grains, potassium-rich dried mission figs and juicy pomegranate seeds. Make the filling a day ahead for a more intense flavor.
This dish features chickpeas, a plant-based protein, and fiber-rich whole grains, to keep you fuller, longer. Heartier and firmer grains like sorghum, quinoa, barley and farro work best for this kind of warm grain salad because they keep their texture and hold up well against flavorful dressings. And if you decide to cook the grains in a broth, opt for an unsalted one so you can control the sodium and taste.