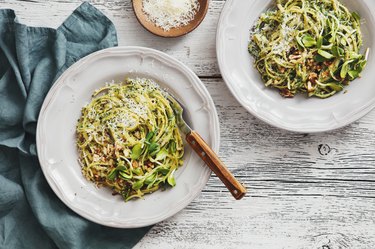 Zoodles are a healthy pasta alternative — but, let's be honest, saying the name is more fun than eating the dish. Good news: You don't have to ditch good ol' traditional pasta for the sake of sticking to your calorie budget.
Despite popular belief, pasta can actually make a nutritious, low-calorie meal. The key is keeping portions in check and pairing your noodles with protein- and fiber-filled foods.
Next time you're hit with a carb craving on a cold night, try one of these healthy pasta recipes under 300 calories.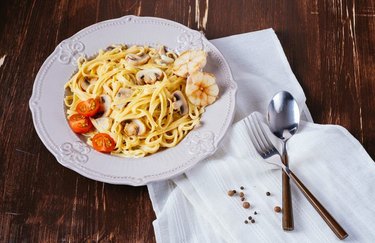 Nothing says cozy quite like warm, rich Alfredo sauce. And, for only 280 calories, this dish is high in healthy, unsaturated fat and protein, making it a satiating choice. All you need is 35 minutes to prepare the perfect bowl of creamy comfort.
Instead of cream and butter, this vegan Alfredo pasta swaps the traditional ingredients for coconut milk, which has some great health benefits. Coconut milk can help promote healthy immune function due to its lauric acid content, a fatty acid known for its antimicrobial properties, according to a January 2015 article in the ‌Journal of the American Oil Chemists' Society‌.
2. Whole-Grain Pasta Carbonara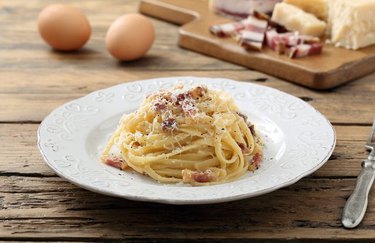 High in protein, this 293-calorie-dish is easy to prepare and requires only 35 minutes. For a healthier take on this pasta, the recipe swaps whole milk with skim, cutting the dish's saturated fat content.
Instead of white spaghetti, this recipe calls for fiber-rich whole-wheat noodles. Whole grains are high in dietary fiber, which helps you feel full and satisfied with fewer calories, according to the American Heart Association. Whole grains are also high in B vitamins, which help carry oxygen in the blood and form new cells.
3. Power Pesto Pasta Salad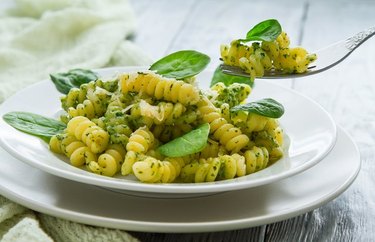 If you're looking for a carb-filled dish that's low in calories, this whole-grain Power Pesto Pasta Salad will satisfy. With only 131 calories per serving, you can pair this pasta with a lean protein like chicken breast, ground turkey or tofu for a complete meal.
This pasta salad is prepared with spinach, which is high in magnesium and provides about 20 percent of your daily value per half cup, according to the National Institutes of Health (NIH). This mineral is needed for energy production and proper muscle and nerve function. Magnesium also helps promote good sleep, making this a perfect dish to eat before bed.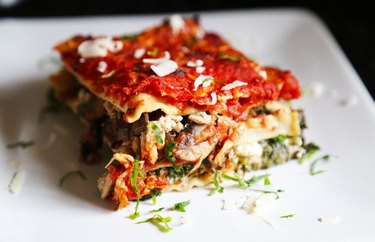 High in protein, low in fat and full of fiber, this lasagna pretty much hits all the marks. While this recipe does require quite a few ingredients (it's totally worth it), it only needs about 20 minutes of prep time and will give you just the warm, full-belly feeling that cold weather demands.
Instead of ground beef, this lasagna uses ground turkey, a leaner and lower-calorie protein alternative. Turkey meat is also high in niacin — also known as vitamin B3 — which helps keep your nervous system, digestive system and skin healthy, according to the Mayo Clinic.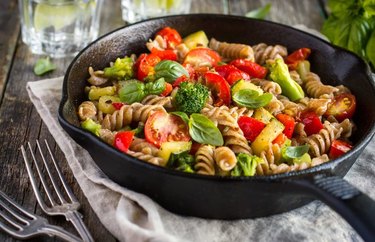 At only 267 calories per serving, this recipe is loaded with veggies and whole-grain pasta. With 12 grams of fiber, this pasta makes for a hearty dinner that will keep you full and cozy past bedtime.
Zucchini, a key ingredient of this dish, supplies some vitamin C, which helps boost immunity and helps your body process and store protein, according to the NIH. Pair this pasta with a lean protein for a complete dish.