Most women, and many men, desire glutes that are tight, toned and give the butt a lifted and round appearance. Combined with a proper, clean diet and cardiovascular exercise, many machines in the gym can help round the glutes and lift the booty. The National Strength and Conditioning Association recommends doing 12 to 15 repetitions for two to three sets of glute exercises for optimum muscle growth and toning.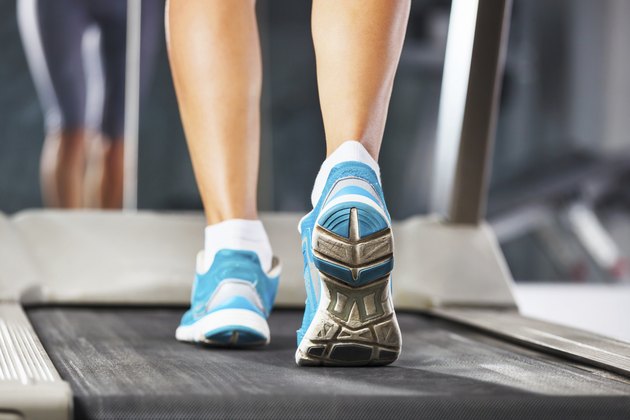 Hamstring Curl Machines
The hamstring curl machine involves either sitting up or lying on your stomach and bending your knees against a weight to target the hamstrings. Your hamstring muscles are the primary muscles involved with bending your knees, but your glute muscles have to assist them. Generally, when you exercise your butt muscles, you also exercise your hamstrings, which helps give your entire backside a tight look.
Cable Machines
Most gyms have a cable or pulley machine with ankle attachments. To work your booty, fasten an ankle attachment to a cable pulley set as close to the floor as possible. Face the cable machine and lift your leg up behind you to perform a rear leg lift. A progression of this exercise involves kneeling on a bench and performing a rear leg lift. This allows for a deeper contraction and works your glutes a little more.
Leg Press Machines
Many variations of the leg press machine involve sitting vertical, at an angle, or lying horizontal with your legs bent and feet positioned against a platform. Do a basic squat with both legs to warm up, but to really target those glutes, do single leg presses. Place one foot on the platform and the other foot on the floor or near the platform to act as a spotter. Proceed to bend your active leg, then squeeze your glutes and press the platform back up.
Weight Benches
Weight benches are not a machine, but are available in most gyms and are effective for glute workouts. Stand behind a bench and place your left foot on the flat surface, making sure your entire foot is on the bench. Step up and balance on your left leg, then slowly lower back down. Keep your foot on the bench and repeat. Do this exercise standing beside the bench as well, so you step up laterally. Repeat for both legs. For a deeper glute workout, hold dumbbells in each hand.
Treadmills
Treadmills add cardiovascular exercise to your routine, which helps burn calories and therefore excess fat. To make a cardiovascular exercise into a glute lifting exercise, bring the incline of the treadmill to 10 to 15 percent grade. Walk at three or four miles per hour, fast enough that you feel the burn but are not at risk of falling off the treadmill. Do not hold onto the handles unless necessary for balance. If you can, add 1 minute of sprints for a high-intensity cardio workout.