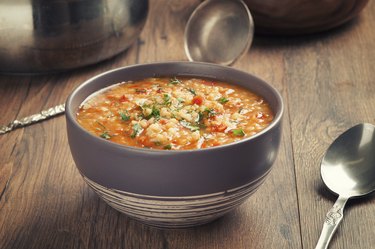 For a person with diabetes, the top priority is to monitor his total carbohydrate intake per day and maintain his blood glucose level within safe parameters. Through careful monitoring of her nutrition, a person with diabetes can significantly decrease her risk of developing diabetes complications such as nerve damage, heart disease, stroke, eye problems and kidney damage. Lentils are a good choice for a low carb lunch, because they are high in fiber and therefore will help stabilize blood sugar levels.
Carbohydrate
According to Amy Campbell, registered dietitian and certified diabetes educator for Joslin Diabetes Center, having diabetes does not mean there are certain foods you need to avoid. People with diabetes can eat the same foods as people without diabetes; the caveat is that diabetics must control their carbohydrate intake over the course of the whole day. One cup of cooked lentils contains 39.86 g of carbohydrate, which makes it a low carb option for a midday meal that will not blow your carbohydrate budget for the day.
Fiber
Lentils are also very high in fiber, which makes them an especially good choice for diabetics. The body does not digest fiber, therefore it does not cause blood sugar levels to rise. According to the Joslin Diabetes Center, diabetics can subtract the number of grams of fiber in any given food from their total carbohydrate. One cup of cooked lentils contains 15.6 g of fiber, which places your net carbohydrate intake for a low-carb lentil lunch at 24.26 g.
Protein
Lentils also provide a good deal of low-fat protein, which can be helpful for vegetarian diabetics as well as diabetics who want to lose some weight. A protein-rich lentil lunch can help fill you up so you don't overeat later on in the day. One cup of cooked lentils provides 17.86 g of protein. The American Diabetic Association recommends that diabetics include lentils on the menu several times a week.
Considerations
Lentils are healthy for a low-carb lunch for someone with diabetes; however, portion control is paramount for diabetics. Lentils are classified as a carb, therefore eating too many at one sitting will affect your blood glucose levels. So limit your portions to keep yourself one step closer to effectively managing your diabetes.