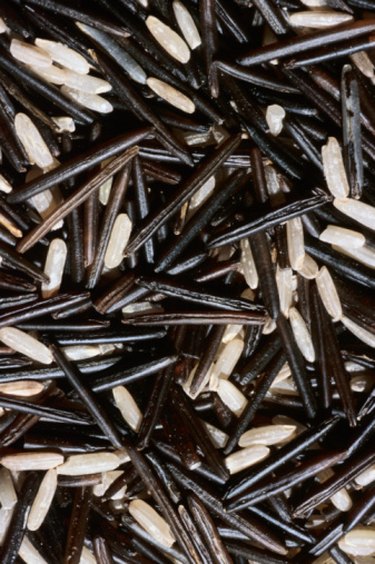 Purple rice is a variation of jasmine rice. Although it is often used to create visual interest in certain entrees, it is cooked similarly to other versions of jasmine or Thai sticky rice. Purple rice can be cooked on its own or as a part of a mixture with white jasmine rice. If you are making dinner for your family or want to impress dinner guests, consider offering them a dish prepared with purple rice for a unique touch. However, be aware that there are specific cooking instructions you must follow.
Step 1
Add the rice to a medium or large pot and fill the pot halfway with cool water.
Step 2
Lightly stir the rice in the water to rinse it off. The water will become cloudy as dust and residue are lifted from the rice.
Step 3
Drain the water from the rice, using a large spoon to prevent the rice from falling into the sink.
Step 4
Fill the pot halfway with water and repeat the process. Rinse the rice three times or until the water is less cloudy when added to the rice. It's not necessary for it to be clear.
Step 5
Add 2 1/2 cups water to the rinsed rice and place the pot on the stovetop over medium-high heat.
Step 6
Bring the water to a boil, stirring it frequently to prevent the grains from sticking to the bottom of the pot.
Step 7
Reduce the heat to low when the water begins to boil.
Step 8
Cover the pot with a lid and cook the rice for 15 to 20 minutes without lifting the lid. This is important to help build the proper amount of heat to cook the rice.
Step 9
Remove the pot from the burner, leaving the lid on the pot. Allow the covered pot to sit for an additional 10 to 15 minutes. The steam from the pot helps to finish cooking the rice.
Step 10
Remove the lid from the pot and use a fork to fluff the rice.
Things You'll Need
2 cups purple rice

Medium or large pot

Large spoon

Salt
Tip
To add a light coconut flavor, boil the rice in a mixture of 1 cup water and 1 1/2 cups coconut milk instead of strictly water.