Having strong shin bones is important for athletes who run and for those who participate in contact sports such as football or martial arts. Training your shins can help prevent injuries like shin splints, fractures and even full breaks; It's just as important as training your arms, core and the rest of your legs. Doing exercises that target the shins and surrounding muscles will help you to continue to perform at your best.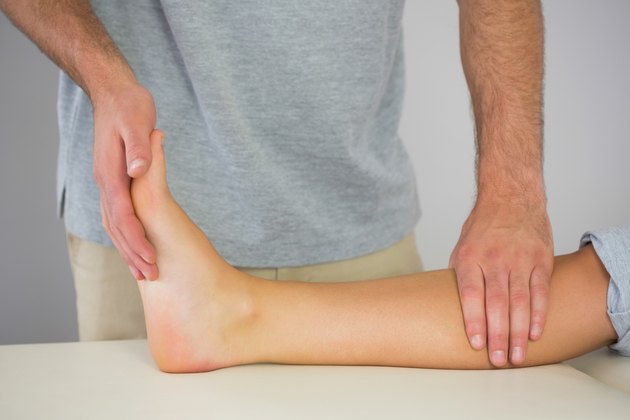 Toes to the Sky
Toe raises strengthen the muscles surrounding the front and sides of the shin bone, helping to reinforce it. Start by sitting with both feet flat on the floor. Keep your heels on the ground and lift the rest of your foot up as much as you can, pointing your toes to the sky. Hold for a moment, then slowly return your foot to the starting position. Start with one set of 10 to 20 reps, gradually increasing to two or three sets as your strength improves.
Stay On Your Toes
Calf raises strengthen the shin by building up the calf muscle behind the shin bone. Start by standing with your feet shoulder-width apart. Raise your heels off of the floor as much as you can, then slowly return to the starting position. Do 10 to 20 reps per set and build up to two to three sets. Beginners can start out by holding onto something for balance. To make the exercise more difficult, work one leg at a time or do them while standing on the edge of a step; this allows your heels to come down past the top of the step.
Work Them With Walking
Heel-toe walking engages all of the muscles surrounding your shins and helps support the bones. With each step, exaggerate your ankle movement so your toes point up and your heel lifts upward at the end of each step. You can also break up the movement by first walking about 20 feet on your heels and then walking another 20 feet on your toes. Make sure each movement is controlled as you walk.
Building Up Bone
Weight-bearing exercises also improve bone density and can strengthen your shin bones. When you do weight-bearing exercise, you force your body to work against gravity while remaining upright; this causes stress on the bone. The dynamic impact of positive stress forces bone to strengthen, or become more dense, to withstand that stress. Weight-bearing exercises can be either high or low impact, and those that can help strengthen the shins include running, jogging, hiking, jumping rope, stair climbing, dancing and certain types of aerobics.
Make Contact
Another effective way to build up your shin bones is through contact exercises. The stress on the bone from frequent impact causes the bone to build up and become stronger. These exercises are beneficial for martial artists and kickboxers who need strong shin bones to perform powerful kicks without injury. Kick a heavy bag, or another type of martial arts pads, repeatedly. Be sure to make contact with your shin. Shin bone conditioning through contact exercise can take years and should be done with caution. When your shins become tender, allow ample time for them to recover.
D For Density
Your diet is also a key factor in helping you build strong bones throughout your body, including your shins. Getting plenty of vitamin D and calcium is important to building bone. Calcium helps support strong bones and vitamin D helps your body better absorb calcium. You can get calcium by eating broccoli, kale and oranges and by drinking milk. You can get vitamin D from eggs and cheese, or by spending some time in the sun. Both calcium and vitamin D can also be taken as supplements.