Whether you choose to run up and down the stairs at your local stadium or use a stair climbing machine at the gym, hitting the stairs is a good way to get a workout. Climbing stairs is low impact so it's relatively easy on your feet, ankles, knees and hips -- ideal if you are overweight or have joint issues normally made worse by high-impact activities like running or jumping. Stair climbing affects your body in several ways.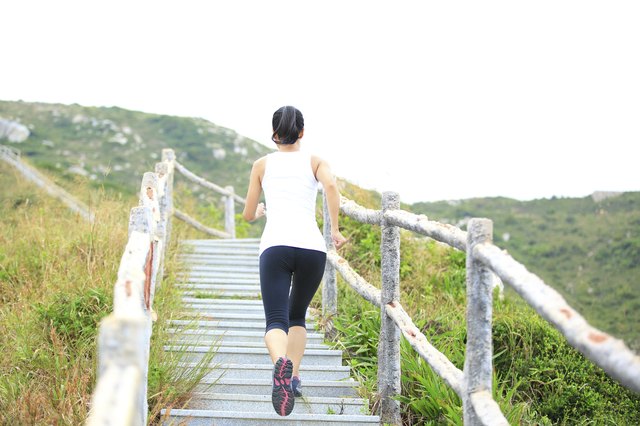 Getting to the Heart of the Matter
Climbing stairs is a cardiovascular exercise, meaning it works your heart, lungs and circulatory system. Cardiovascular fitness is closely linked to cardiovascular health, so regular stair climbing workouts may reduce your chances of suffering coronary heart disease, strokes, heart attacks and high blood pressure. If you have a history of cardiovascular illness, consult your doctor before starting a new exercise routine.
Terrific Thighs
Climbing stairs provides your entire lower body with an effective workout. Take two steps at a time and the increased intensity will really kick your workout up a notch. Stair climbing works all of your major lower-body muscles including glutes, hamstrings, quadriceps and calves. Strengthened gluteal muscles have the added benefit of making your butt look toned and firm.
Bulk Up Your Bones
Stair climbing is a weight-bearing exercise and as such will strengthen your bones. Bone density tends to decline with age and can lead to osteoporosis, a condition characterized by weak bones prone to fracture. Climbing stairs means the bones of your lower body must work to support your weight, and that extra load will trigger an increase in bone-building cell activity.
Control Your Weight
Climbing stairs, either for exercise or simply because you decide to skip the elevator, can help you control your weight by burning more calories. For a 120-lb person, stair climbing burns around 146 calories per 20-minute session. Studies by scientists at the University of Roehampton in England found that climbing five flights of stairs, equal to an ascent of around 16.4 yards or 15 meters, five times a week burned an average of 302 calories. They recommend taking one step at a time rather than two because doing so uses more energy as it takes longer to climb each flight. Making stair climbing a regular part of your day helps make controlling your weight easier.