Implicated as a factor in hypertension, too much sodium in your diet contributes to unnecessary health risks. While eliminating sodium from your diet is neither healthful nor advisable, moderation in sodium intake ensures that you get enough of this necessary nutrient without putting your health in jeopardy. In the context of a healthy diet, 400 mg of sodium is typically not a concern. When it comes to evaluating the healthfulness of a particular food, however, this amount may be a bit on the high side.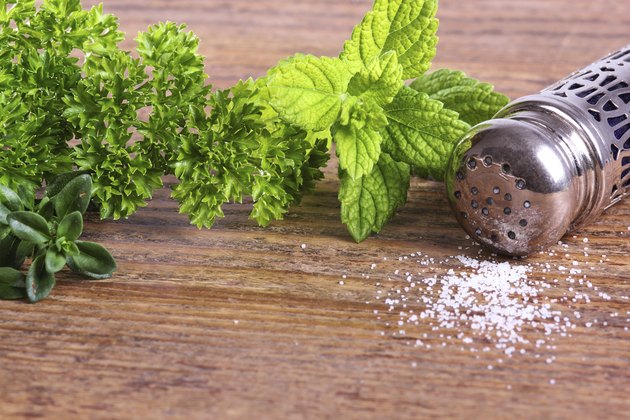 Recommendations
The daily value for sodium is 2,400 mg, based on a 2,000-calorie diet, according to the Mayo Clinic. The Institute of Medicine recommends a maximum intake of 2,300 mg per day to avoid negative health effects. To be considered a high source of a particular nutrient, a food must provide 20 percent or more of the daily value. A food classified as a high source of sodium, then, would provide 480 mg of sodium or more. At the same time, a single food source that provides 400 mg of sodium may not be a good choice for you – depending on your diet as a whole – if you've been advised by your doctor to limit sodium.
Health-Specific Guidelines
The Dietary Guidelines for Americans 2010 points out that while most people benefit from consuming less than the recommended daily value of sodium, decreased intake is particularly beneficial for certain individuals, including African Americans, people over age 50 and those with diabetes, chronic kidney disease and hypertension. For these groups, the recommended upper intake is 1,500 mg daily. Although 400 mg is certainly within the bounds of healthy daily intake, a single serving of food that provides this amount of sodium packs more than 26 percent of the recommended amount for those at risk.
Trends
While the Dietary Guidelines for Americans 2010 maintains that 2,300 mg and 1,500 mg of sodium are healthy maximum intakes based on individual factors, the American Heart Association recommends a maximum of 1,500 mg across the board as part of a heart-healthy diet. That's the equivalent of the sodium content in 2/3 tsp. salt. In comparison, 1 tsp. of salt provides roughly 2,300 mg of sodium.
Considerations
Sodium plays an important role in your body's healthy function, contributing to nerve health, proper fluid balance and muscle contraction and relaxation, according to the Mayo Clinic. However, it isn't difficult to take in enough sodium to meet your body's basic needs. Under optimal conditions, the USDA reports that 180 mg a day is sufficient to replace lost sodium, although a diet with sodium intakes this low may not provide adequate amounts of other nutrients. If you're concerned about sodium in your diet, consult with your doctor or a registered dietitian, particularly if you are at increased risk for high blood pressure.