When you started on your weight loss journey, you had no idea that one of the possible side effects of losing weight might be an unusual taste in your mouth commonly described as a metallic taste, usually accompanied by halitosis or bad breath. In particular, if your weight loss strategy includes a low-carbohydrate, high-protein diet plan, then you are likely to experience this undesirable effect.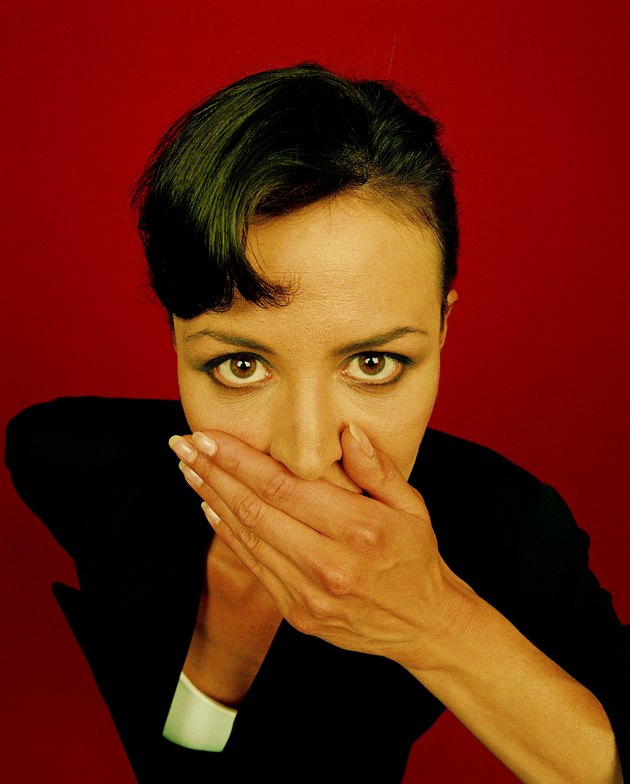 Weight Loss Through Ketosis
When you are on a low-carbohydrate/high-protein diet, the goal is to create a condition called ketosis, which is the breakdown of fat into ketones. Once the ketones get into your urine and saliva, it can cause a metallic taste and bad breath to form. The process of ketosis tends to be diuretic in nature and, therefore, creates a greater risk for dehydration. Dehydration lowers saliva production which can lead to an increase in the bacterial growth responsible for bad breath.
The Foods You Eat
If you are not on a restricted carbohydrate diet, then another cause of the unusual taste in your mouth and halitosis may be your food in general. When you chew your food, the breakdown of these food particles can get stuck between your teeth and create pockets of bacterial growth, causing an unpleasant taste and odor. Other foods, such as those containing garlic and onions, are digested and absorbed into the bloodstream, carried to the lungs and expelled through the breath. However, if you are not on weight-loss diet and develop an unusual taste in your mouth and bad breath, you may need to consult your physician to make sure your symptoms are not due to a more serious health problem.
Dry Mouth
Another cause of bad breath and a lingering unpleasant taste in your mouth is a condition called xerostomia, which is dry mouth. Saliva helps to keep the mouth cleansed of bacteria-producing food particles. Dry mouth occurs when the production of saliva decreases. Certain medications, such as prescribed appetite suppressants, can cause dry mouth. Your dentist may be able to prescribe an artificial saliva substitute to remedy this problem.
Refresh Your Breath
While there are some short-term weight-loss benefits of a low-carbohydrate/high-protein diet, a well-balanced diet that includes fruits, vegetables, whole grains, lean proteins and healthy fats can help you attain a healthy weight while eliminating unpleasant oral hygiene side effects. Other methods that may be helpful in controlling the unusual taste in your mouth and ketone-induced halitosis are drinking plenty of water and chewing fresh parsley or mint.