Shoulder instability, shoulder dislocations, arthritis and rotator cuff tears are among the reasons why you may elect to undergo shoulder surgery. While there is no specific diet to follow after shoulder surgery, maintaining a healthy, well-balanced diet can be beneficial to your recovery. A diet packed with vitamins, nutrients and minerals can help promote healing.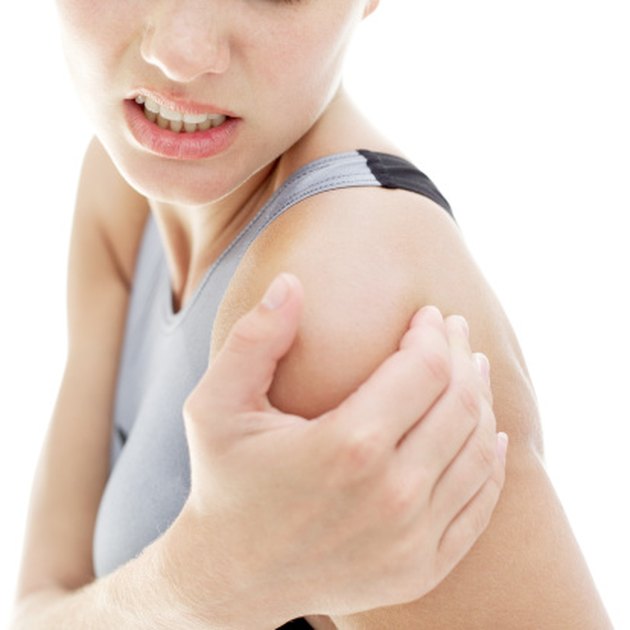 Immediately After Surgery
For shoulder surgery that was performed under general anesthetic, you will likely not be able to be discharged from the hospital unless you are able to consume clear liquids and crackers. The University of Kentucky indicates anesthesia drugs may cause nausea for the first 24 hours after surgery. If you experience nausea, refrain from solid foods and stick to a clear liquid diet for the first day. A clear liquid diet can include clear soda, clear sports drinks, water, broth and plain gelatin. You can also eat crackers or toast during the time frame. Your surgeon should be contacted if you experience a fever and dehydration.
Well-Balanced Diet
A well-balanced diet can provide you with essential vitamins and nutrients as you recover. A well-balanced diet can also prevent weight gain as you may be required to lead a sedentary lifestyle for a few weeks or months. The National Academy of Sports Medicine indicates a diet for weight maintenance should include 2,000 calories daily. A well-balanced diet should include lean meats, five servings of fruits and vegetables per day, whole grains and low fat dairy products. Drink plenty of fluids -- eight 8-oz. glasses of water per day -- to help keep your muscles hydrated and prevent dehydration.
Vitamin C
Foods that contain vitamin C are important in your recovery from shoulder surgery. Vitamin C is an antioxidant that can help boost your body's immune system -- this will make your incision less likely to become infected. Vitamin C can also help to promote proper healing of your surgical incision. Sources of vitamin C include citrus fruits-- such as oranges -- kiwi, sweet red peppers, broccoli, tomatoes, cabbage and strawberries.
Vitamin E
Vitamin E helps to protect your cells and tissues from damage, which is beneficial for those recovering from shoulder surgery. Vitamin E can also help to promote the healing of scared tissue and reduce inflammation at the site of your surgery -- your shoulder. Vitamin E can be found in wheat germ, leafy, green vegetables, nuts, seeds, egg yolks and whole grains.
Protein
Protein plays a vital role in promoting the healing of your surgical incision. Protein enables your body to build new skin at the site of your incision. Protein can also help your body fight off infections and bacteria as you recover. Foods that are high in protein include lean meats, eggs, milk, fish and poultry. If you are concerned you are not receiving enough protein, talk to your surgeon about supplementation.