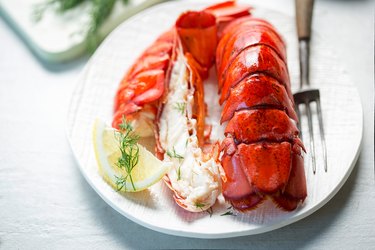 Not many foods can compare to the decadence of a freshly prepared lobster dipped in butter. But unless you live on the coast, finding fresh lobster at your supermarket can be difficult.
Whether or not you live in a land-locked state, frozen lobster can be just as delicious.
Frozen lobster is a cost-effective way to enjoy a delicacy and, in some cases, it can even be fresher than raw or live seafood, says Chef Nik Fields, founder of Chic Chef Co. Generally, there's no big taste difference between fresh or frozen lobster — in fact, the taste boils down to how you prepare it.
Here, celebrity chef Serena Poon shares what you'll need and the steps to follow to cook a frozen whole lobster for a luxurious dinner any night of the week.
How to Prepare Frozen Whole Lobster
Things You'll Need
Frozen whole lobster

Large stockpot

Himalayan sea salt

Water

Tongs

Butter

Garlic

Celery salt

Lemon zest

Fresh herbs like thyme, dill or basil

Serving your lobster with the perfect sides will take your dinner to the next level.
While you can certainly serve lobster with butter or ghee on the side, Fields recommends that you sprinkle the meat with some citrus, like lemon, to add to the overall flavor. Plus, this will add some vitamin C to your meal.
Lobster is an excellent source of lean protein, Fields says. But you still want to include some veggies and carbs for a more balanced meal. Consider adding some leafy greens or cruciferous veggies to increase the amount of fiber in your dinner. This crucial nutrient can help keep your blood sugar levels and digestive health regular.
To add some more density to your dinner, consider preparing some brown rice or buckwheat. These whole grains are both nutritious and satisfying.