When your problem area is your stomach, all the crunches in the world won't flatten it unless you first lose weight. By making small changes in both your diet and exercise regimen, you can tighten and tone your muscles while losing belly flab at the same time, quickly giving you the flat stomach you've always dreamed of. Talk to your doctor before changing your diet or exercise program, particularly if you have health conditions or injuries.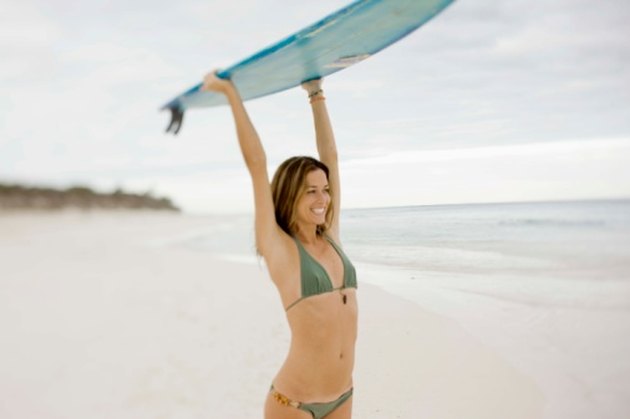 Dietary Changes
There is no way to spot reduce fat on any one part of your body, including your stomach. You must lose weight all over your body in order to lose belly fat. By reducing your calorie intake and increasing the amount that you exercise, you can create a caloric deficit in the body, which will make you lose weight. You must burn 3,500 additional calories to lose 1 lb. of fat per week. By reducing your normal, needed diet by 250 calories per day and burning an additional 250 calories per day, you may lose 1 lb. per week -- these exact figures may vary depending on activity level, weight and daily calorie intake.
Reduce your calorie intake by eating fruit and vegetables, whole grains and lean protein. Limit foods that are high in saturated and trans fats, like baked goods, fried foods, red meat, and foods that contain butter or lard.
Cardio Exercise
Cardio exercises -- aerobic exercises that get the heart pumping quickly -- burn the most calories, which may help you lose weight. Doing cardio exercises like jogging, biking, swimming, tennis and basketball most days of the week will allow you to lose belly fat and keep it off in the long run. The more calories you burn, the more quickly you will lose weight -- you can safely aim to lose 1 to 2 lbs. per week. If a 160-lb. person jogs at a pace of 5 mph for 30 minutes, she will burn 292 calories. If a 160-lb. person bikes at a speed of 10 miles per hour for one hour, she will also burn 292 calories. If she also cuts back on the calories she consumes, jogging for half an hour or biking for one hour every day may help her lose 1 lb. per week.
Weight-Training Exercises
Although toning your muscles alone will not help you lose your belly pooch, doing weight-training exercises as you lose weight will help you achieve a defined, sculpted stomach more quickly. Do weight-training exercises twice a week on nonconsecutive days to build and tone your muscles. Although traditional crunches and situps are effective, other abdominal exercises, like the lunge twist, will also tone your abs. Stand up straight with your feet at about the width of your hips, with your elbows bent at a 90-degree angle and your hands directly in front of your hips. Bend your knees slightly, then take a step forward with your right leg. Moving at the hips, turn your upper body and arms to the right. Turn your upper body back to the center, then take a step back with your right foot. Repeat on the opposite side -- then repeat 16 times on each side.
Lifestyle Changes
Although setting aside time to exercise every day will help you lose belly flab, you can lose it even more quickly if you adopt a more active lifestyle. Instead of taking the escalator or elevator, take the stairs. Instead of watching TV after dinner, go for a walk. Ride your bike or walk to work a few days a week instead of driving. By making small, more active choices throughout the day, you'll burn more calories and lose belly fat more quickly.