Diverticulosis is a small pouch-like bulge of a section of the colon. Diverticulosis can most often be managed with a careful diet but an acute attack of the disorder, known as diverticulitis, may require medications for pain and infection that may develop. In addition, an acute diverticulitis attack may require changes to the diet including limiting certain foods including meat. Talk to your doctor about your diverticulitis before establishing a dietary regimen, particularly during an acute attack.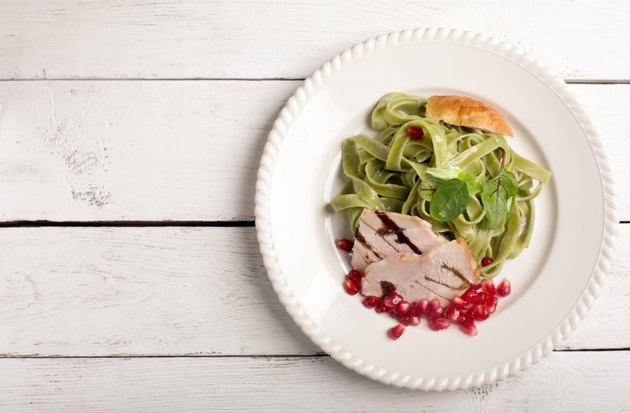 About Diverticulosis
Diverticulosis occurs when a diverticuli of the digestive tract begins to bulge and forms a small pouch. It most often occurs in the lower section of the large intestine but may happen anywhere in the gastrointestinal tract. The pouch may then collect indigestible matter such as berry seeds and nuts which are trapped and may cause an infection to begin to form. Diverticulosis most commonly occurs after the age of 40 and may affect more men than women. Diverticulosis may go undetected for a long period of time until an infection begins to form and causes an acute diverticulitis attack.
Acute Diverticulitis
Acute diverticulitis may occur when the bulged pouch of the diverticulosis has collected fecal matter or other indigestible food and caused inflammation and infection. Acute diverticulitis has symptoms such as pain in the GI tract, most commonly in the lower left section of the abdomen. Acute diverticulitis may also cause fever and a flu-like state and should be treated by a physician. If the infection is not treated with antibiotics such as metronidazole and ciprofloxacin, the pouch may rupture, causing a perforated intestine which may become a medical emergency and require surgery.
Diet for Acute Diverticulitis
In addition to taking the pain medication and antibiotics that may be prescribed for treatment of acute diverticulitis, your doctor may recommend some temporary dietary changes until the inflammation and infection has cleared. According to the Mayo Clinic a diverticulitis diet will allow your digestive system to rest while it heals. Initially, it is recommended that you consume only clear liquids such as broth, plain gelatin, fruit juices without pulp, ice pops and tea or coffee with no cream. Slowly as your digestive system begins to heal you may add canned fruit, tender meats including chicken and fish, deserts without seeds or nuts, low fiber grain products including cereals, white rice and pasta and well cooked vegetables.
Diet for Chronic Diverticulosis
If you are no longer experiencing symptoms of diverticulitis, the Mayo Clinic recommends that you begin eating a high fiber diet with whole grains, plenty of vegetables and fruits, and legumes like beans and lentils and may return to eating a variety of meats. If you notice a return of symptoms you should contact a physician.