An anxiety disorder can cause a severe impact to your quality of life and impair your ability to function. Different anti-anxiety medications may alleviate some of your symptoms, however, they are often accompanied by undesirable side effects. Patients wishing to avoid these unpleasant side effects often turn to holistic and natural remedies. Although scientific studies are extremely limited, anecdotal evidence suggests that maca root may be a beneficial, natural anti-anxiety supplement. Do not use maca without consulting your doctor.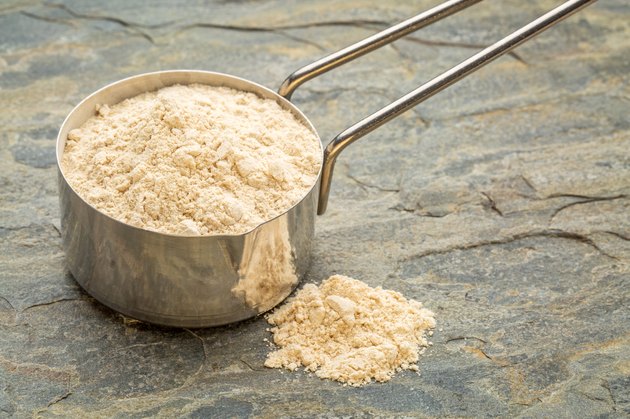 About Maca
The maca, also known as Lepidium meyenii, is a plant native to the Andes mountains in South America, although it is grown in other warm, subtropical climates. Peruvians have used maca root as both a food, due to its high nutritional content, and as a healing aid, due to its purported uses for improving energy, reducing fatigue and enhancing sexual desire and mood. According to Drs. David Mischoulon, and Jerrold F. Rosenbaum in their book, "Natural Medications for Psychiatric Disorders," maca root contains a high content of natural amino acids, calcium, phosphorus, zinc, magnesium, iron, iodine, vitamin B-1, B-2, B-12 and vitamins C and E, among many other nutrients. The root of the maca plant is usually ground and used in over-the-counter supplements and drink mixes.
Anxiety and Anxiety Disorders
It's normal to feel anxious when you encounter a fearful or stressful situation. However, it's not normal to experience persistent feelings of anxiety without an easily identifiable cause. If you feel symptoms such as constant worry, insomnia, panic, unexplained aches and pains, tension, nervousness or avoidance of fear-invoking situations, you may have an anxiety disorder. Anxiety disorders are one of the most common mental health disorders, affecting around 40 million American adults each year, according to the National Institute of Mental Health. Medication and psychotherapy are frequently prescribed to help patients with anxiety disorders. While anxiety medications are not a cure for anxiety disorders, they may help you manage some of the symptoms. Some people also experience relief from anxiety symptoms through the use of natural or herbal supplements, such as maca.
Clinical Evidence
There is limited clinical evidence to support the claim that maca root is effective for alleviating anxiety. A study on postmenopausal women, published in the December 2008 issue of the journal, "Menopause," examined the effects of maca root supplementation on psychological symptoms and sexual dysfunction. The results showed that maca had a beneficial effect on reducing anxiety, depression and sexual dysfunction. However, another study, published in the December 2002 issue of the journal, "Andrologia," an international journal on sexual dysfunction in men, showed that while maca improved sexual desire in healthy male volunteers, it did not appear to have an effect on anxiety or depression.
Considerations
While anecdotal evidence suggests that maca may help anxiety, current clinical evidence is too limited to fully support this claim. More studies are needed to examine maca's effect on anxiety and anxiety disorders. If you think you have an anxiety disorder, do not attempt to self-diagnose or treat your symptoms. Consult your doctor or a licensed mental health professional for a proper diagnosis and to discuss treatment options. Inform your doctor if you plan to use a maca root supplement.