Ice cubes are just frozen water, so they don't offer any special nutritive benefits. But eating ice cubes might be a convenient way to get the same benefits that water offers. Choking is a hazard, so only chew ice cubes that are broken into small enough pieces. Another alternative is to eat ice rings rather than cubes. Should you accidentally swallow an ice ring, the hole in its center increases your chances of maintaining proper airflow.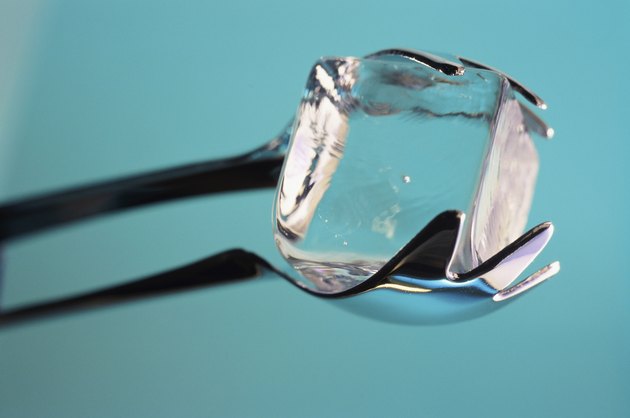 Hydration and Cooling
Your body needs roughly eight 8-oz. glasses of water a day. This helps with various bodily processes, including transporting nutrients, aiding the digestive system and removing waste products. Eating ice cubes is one way to hydrate yourself, though the most effective way is to drink more water. Ice also can help lower your body temperature. On a hot day, crunching on a piece of ice might help you cool down. Or after a vigorous workout, chewing a piece of ice might make athletes feel cooler while providing some extra hydration.
Soothing
People who suffer from nausea might benefit from chewing ice. MedlinePlus, a service of the U.S. National Library of Medicine, recommends flavored ice cubes to cancer patients who experience nausea and vomiting. For example, frozen ice cubes made of low-sugar apple or grape juice provide healthy nutirents and might help soothe you stomach. Other suggestions include sipping liquids slowly or through a straw, and avoiding hot foods.
Disadvantages
One disadvantage of chewing ice cubes is the damage it might do to your teeth, especially if you chew them often. Repetitive chewing of hard items like ice cubes or candy can crack or break your teeth and damage fillings and other dental work. Another safety risk is that young children might choke on normal ice cubes, even if you break them up into small pieces. A safer alternative is to use an ice-pop tray to create a snack they can lick rather than chew.
Considerations
A compulsion to chew ice cubes might fall under the category of pica, which is an abnormal craving to eat nonfood items. Pregnant women might experience a strong desire to chew ice cubes, as well as other atypical items, such as clay, dirt, ashes, laundry starch, baking soda, toothpaste, coffee grounds or cigarette butts, according to nutritionist Bridget Swinney of BabyCenter. There's no known cause for pica, but some bizarre cravings might have a link to a nutritional deficiency. Swinney says, "Some women who have iron-deficiency anemia crave ice until the deficiency is cured," though she notes that a craving for ice isn't always due to a deficiency.