Most people don't think about their lung capacity until they go running and find that they're out of breath in 10 minutes. Improving your lung capacity is a sure way to give you more wind for running. There are a few trendy gadgets and breathing techniques for increasing your lung capacity, but nothing works better than regular exercise.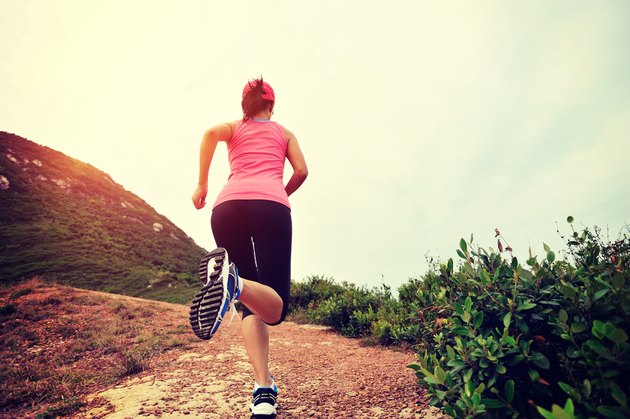 High-Altitude Training
When you're acclimated to training at a lower elevations and then move to a higher elevation, you might notice symptoms of altitude sickness, such as dizziness and fatigue. That's because your lungs are working harder to process a thinner mixture of oxygen in the air. By running and training at higher altitudes, you can condition your body to build up a higher level of red blood cells, thus improving your overall lung capacity. However, this is just a short fix. Your lung capacity improves for roughly a two-week period, making this method ideal for pre-race improvements but not a long-term solution.
Respiratory Training Equipment
If you're a serious runner and looking for additional ways to improve lung capacity, you might consider using a respiratory training apparatus. These devices might have gimmicky names and unsightly appearances, but the science behind them is quite sound. Training masks are designed to simulate elevation training by partially blocking airways, adding resistance to your normal breathing. By forcing your diaphragm to work harder, these breathing masks actually improve lung capacity. Some respiratory trainers resemble snorkeling tubes and are both small and portable. They are also designed to create breathing resistance. Unlike the mask, the tube devices can adjust the level of resistance for breathing. These devices might give some endurance runners a competitive edge, but the trick is finding the ideal balance for your training session.
Cardiovascular Activity
The more permanent solution to improving your lung capacity is maintaining a regular schedule of cardiovascular activity. If you're already a runner, then keep up the pace, and your lung capacity will gradually improve over time. If you are looking to start running and don't think you have the wind for it, start slowly and work your way up to a more challenging regimen. Sprinting in short, powerful bursts, also called sprint interval training, is one way to build up your cardiovascular capacity. Sprint interval training minimizes the physical impact on your body while achieving the same results as traditional endurance training. Exercises such as cycling, swimming and skiing are also cardiovascular activities that can improve your lung function over time. The key is to get moving and push yourself so that your heart and lungs get exercise, too.
Avoid Smoking
Perhaps the worst thing you can do to decrease your lung capacity is to smoke. In 2013 the HealthGuidance website includes quitting smoking in its list of the top three ways to improve lung capacity. Smoking damages your lungs by leaving deposits of tar and other carcinogens in your breathing passages. Smoking also constricts the airways, making your lungs work harder to absorb oxygen. Even second-hand smoke can take its toll on the body and take seconds off your run time. There are runners and fitness enthusiasts who smoke, but avoiding smoke is one of the most proactive things you can do to improve your own healthy lifestyle.