Intestinal gas is often the result of eating too much or eating too quickly, and eating beans, dairy products and leafy greens like lettuce can also have the same effect. The gas is often due to one or more constituents in the lettuce, but food contamination or an underlying digestive problem are also potential causes of gas. Consult a doctor if the problem persists or is accompanied by other symptoms such as cramping or diarrhea.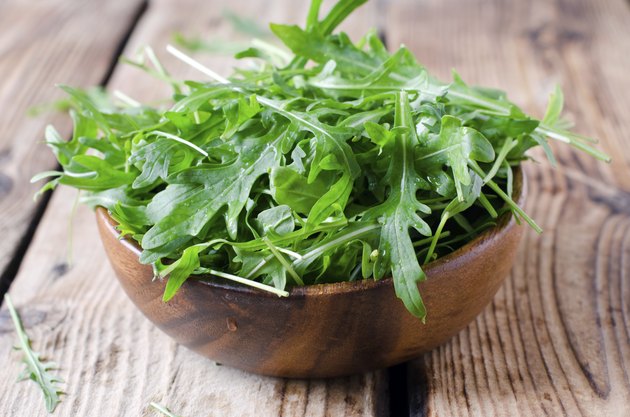 Gas Production
Gas in your intestinal tract is usually due to swallowing air, such as when you eat too fast, or as the natural result of bacteria in your intestines breaking down food. Some foods tend to produce more gas than others because your digestive system either lacks the proper enzyme to break them down or they simply don't digest well in your system. Milk, for example, causes gas for people who don't have the enzyme necessary to break down lactose -- the sugar found in cow's milk.
Lettuce Problems
Foods that contain fiber do not get fully digested in the small intestine, so they are passed on to the large intestine to be broken down. This can produce a lot of gas. Lettuce does not contain as much fiber as some foods, but it may still cause gas, particularly if you are not used to eating fiber. If you are just starting to add fiber to your diet, the excess gas often goes away on its own once your body gets accustomed to digesting the fiber. However, you may just be sensitive to eating certain types of lettuce. For example, the Northwestern Medical Faculty Foundation recommends avoiding iceberg and romaine lettuce if you have gas.
Lettuce Contamination
Lettuce that has not been cleaned or handled properly can have bacterial contamination, which may have gas as a symptom. Although not a common problem, large outbreaks of contamination can occur, such as the one that occurred in March 2012 in which people in nine different states were made ill by romaine lettuce contaminated with E. coli bacteria. Bacterial contamination often leads to additional symptoms, such as abdominal cramps and diarrhea, and typically happens as an isolated incident. Washing lettuce thoroughly before eating it may help prevent digestive problems from contamination.
Possible Solutions
Eating lettuce and other foods with fiber can benefit your digestive process by adding bulk to your stool, but eating too much fiber too quickly can lead to gas. Adding fiber to your diet gradually, over a period of weeks, may help you avoid gas. If you continue to have gas after eating lettuce, taking a supplement -- such as simethicone -- that reduces gas levels in your intestine may also help. Avoiding certain types of lettuce, such as iceberg and romaine, could also prevent gas. If the problem persists, however, consult a doctor to rule out an underlying medical disorder such as irritable bowel syndrome. Seek immediate medical attention if you have symptoms of bacterial contamination such as vomiting, abdominal cramps or diarrhea.