Jicama, also called the yam bean, arrow root or Chinese turnip, is a globe-shaped, gold-brown-colored root vegetable. It has white-colored flesh that can be eaten raw or cooked, and like the potato, grows underground. With its crisp, juicy texture, and nutrient-rich content, jicama has many nutritional benefits, but there are some safety considerations you should watch out for.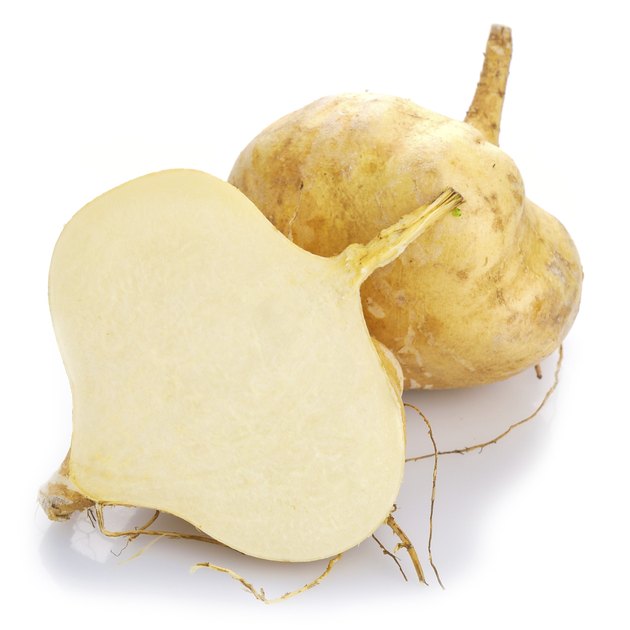 Edible Portion
Only the root portion of jicama is edible. The leaves, flowers and vines of the plant contain rotenone, a natural insecticide designed to protect the plant from predators. Eating any of these parts of the plant can cause a toxic reaction. While the seed pods can sometimes be eaten when young, the mature pods are toxic. To be safe, it is best to only eat the root -- underground -- portion of the plant.
Dietary Fiber Content
Jicama is naturally high in fiber, with 6.4 grams per 1-cup serving. This means that one serving of jicama has 25 percent to 30 percent of the recommended intake of fiber per day for women, and 17 percent to 21 percent of the recommended intake per day for men. While dietary fiber is important for a healthy diet -- it may help reduce blood pressure levels and can prevent and relieve constipation -- too much fiber too quickly can cause digestive side effects. In particular, stomachaches and constipation may result if you suddenly increase your dietary fiber intake. To reduce the chances of this happening, especially if your diet was originally low in fiber, gradually increase your fiber intake. You can also lightly steam your jicama to soften the dietary fiber, as cooking makes fiber easier to digest.
Preparing Jicama
While you can eat jicama raw, you need to peel the plant before eating. Not only is the outer skin thick and fibrous, it also contains a toxic compound to protect the tuber from underground predators. Peel the jicama with a vegetable peeler as the skin is very tough, revealing the fleshy white insides. The interior portion can then be cut up and eaten straight away or used for a dish.
Using Jicama
Jicama is often used as a substitute for water chestnuts in Asian cooking because it retains its crisp texture even when exposed to heat. The inside can be sliced into sticks to use as crudites, as it will not discolor when exposed to air. It also makes for a refreshing snack when simply sprinkled with chili powder and some lemon or lime juice. Jicama can also be sauteed or roasted, much like turnips or parsnips; they will soften but retain their natural juiciness.