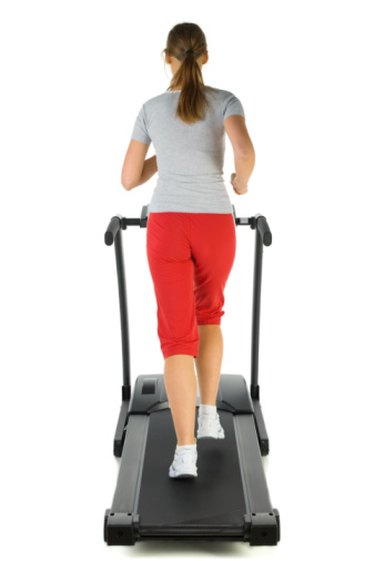 It is not uncommon to experience some muscle soreness and stiffness after beginning a new exercise program. DOMS or delayed onset muscle soreness is the soreness that occurs a day or two following exercise. DOMS is primarily a result of small tears that occurred in the muscle fibers during exercise. The pain, swelling and stiffness associated with DOMS usually last two to five days. Although, it is possible to exercise other muscle groups while you are still stiff, you should never exercise a muscle group if your muscles are still sore or you experience pain.
Exercising With Stiff Muscles
Step 1
Start your workout with at least five minutes of aerobic exercise. If you are extremely stiff, a 10 or 15 minute warmup might be necessary. A good warmup usually will reduce muscle stiffness because of the increase in blood flow to the extremities.
Step 2
Perform some light stretches to the areas with stiff muscles before beginning your workout. This will help to decrease stiffness and may reduce further stiffness from occurring.
Step 3
Keep your heart rate up and your body warm throughout your workout. This will keep your muscles warm and flexible so that you are able to perform at adequate levels.
Step 4
Conclude your workout with another bout of stretching to help minimize further muscle stiffness that may occur.
Preventing Muscle Soreness
Step 1
Begin your workout program at a lower intensity level and slowly increase the intensity over time. This will help you avoid or reduce muscle soreness and stiffness in the initial stages of your exercise program.
Step 2
Reduce the eccentric component of the muscle action can also help reduce muscle soreness and stiffness. The eccentric muscle action is the lengthening of the muscle, such as in the downward phase of a bicep curl or downhill running.
Step 3
Finish each of your workouts by thoroughly stretching the muscles to help minimize potential stiffness and soreness that may occur.
Step 4
Sleep for at east seven hours each night and consume adequate nutrition to help your muscles recover from intense workout sessions.
Warning
Overtraining is a result of a lack for recovery time for your muscles to heal between workouts and is different from DOMS. The effects of overtraining can be short-term, lasting a few days, or it can be long-term. Chronic overtraining can result in a decrease in performance, injury and an increased risk for illness, irritability and depression. Weight loss, loss of appetite and desire to exercise also are signs of overtraining. Allowing your muscles enough time to repair and recover is essential for reducing the effects of overtraining.