Getting a ripped body requires a consistent exercise regimen as well as dietary plan. You will need to focus primarily on strength conditioning with cardio to lose excess body fat and sculpt muscles. Contrary to common belief, you do not need to spend three-plus hours per day in the gym to get ripped. Rather, the intensity and types of exercises you do are more significant to achieving a ripped, cut body. Aim to exercise five days per week with two days of rest or light activity.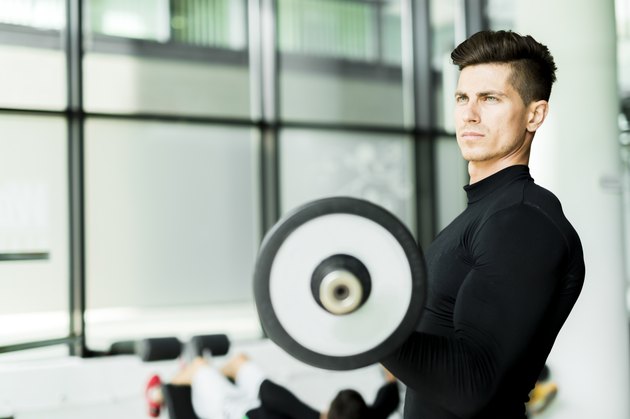 Lift Three Days A Week
Strength train two to three days of the week to achieve a ripped body. Personal Trainer and creator of the website Built Lean, Marc Perry, suggests circuit training with exercises that use compound movements to target the large muscle groups such as squats with dumbbell presses. Circuits have the added effect of increasing the heart rate for cardiovascular benefits including burning off calories for fat-loss. Break up three strength sessions: a legs workout; chest, arms and shoulders; back and abs to focus on isolating muscle groups. Alternatively, select two exercises per body part for a full-body workout twice a week. Avoid working the same muscle group on consecutive days to allow for muscle growth and recovery.
Lift Heavy Things
Build muscle and save time by lifting heavier weights for less repetitions versus lighter weights for more reps. Lifting less weight for more reps will increase muscular endurance and tone but it will not significantly increase muscle mass or metabolism to burn off extra calories for fat-loss. Most women should not worry about getting too bulky with heavier training as they lack the necessary testosterone to get too big. Furthermore, the loads you lift should vary every few weeks to avoid plateaus and challenge your body.
Run Like You Mean It
High-intensity interval training, HIIT, will help you get ripped by burning off excess body fat to reveal chiseled muscles. HIIT involves alternating hard efforts of exercise with easier, low-intensity efforts. Perry cites that you burn more fat with higher intensity training as well as benefit from an after-burn effect in which you continue to burn more calories up to 24 hours post-exercise. Start with one HIIT session per week and progress to two to three maximum on non-consecutive days to ensure muscle recovery. A sample workout might be to sprint hard for 30 seconds followed by jogging for one minute repeated five to 10 times.
Considerations
You can get ripped with a well-planned exercise routine but you cannot out-exercise a bad diet. Eat a well-balanced diet that consists primarily of vegetables, lean proteins and healthy fats and fruits in moderation. Avoid processed foods that are high in sugar and trans-fats. Include a pre and post-workout snack into your daily menu that includes protein and carbs such as a protein shake, yogurt with fruit and/or tuna salad to aid in muscle growth and recovery and restore glycogen. If you eat well, as well as get enough sleep and enjoy relaxation time, you will not have to spend hours in the gym trying to burn off excess calories and weight to get a cut physique.