Some people such as weightlifters, athletes or people simply looking for extra energy, add protein to shakes and smoothies. One common approach is to mix raw eggs in with the drink. After all, eggs contain high levels of protein along with other valuable nutrients and vitamins. However, drinking raw eggs could put you at risk of food poisoning.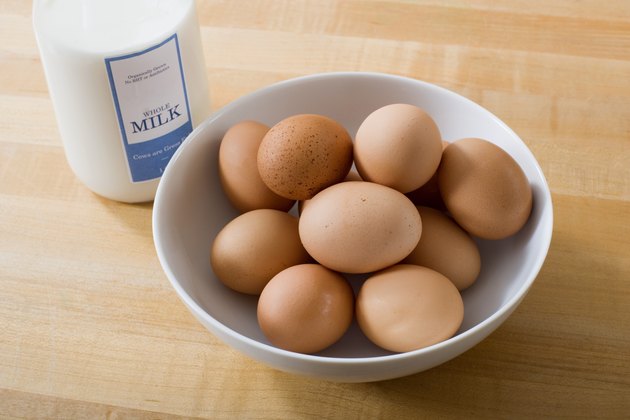 Egg Nutrition
One large egg contains 72 calories, almost all from protein and fat, according to the USDA National Nutrient Database. Eggs also contain high levels of vitamin A, with around 270 IU per large egg. Vitamin A helps in cell development, tissue repair, eyesight, blood health and many other bodily functions. You'll also get omega-3 fatty acids from eggs, substances linked with a healthy heart and blood circulation.
Egg Safety
The Food and Drug Administration recommends avoiding all products that contain raw, unpasteurized eggs, such as Hollandaise sauce and Caesar salad dressing. Store-bought products contain pasteurized eggs, which makes them safe to eat. However, consuming raw eggs in shakes exposes you to the possibility of contracting the bacterial infection salmonellosis.
Salmonella
The bacterial infection salmonellosis presents the main health risk with raw eggs. Triggered by the bacteria salmonella, this condition causes unpleasant symptoms that in some cases require a trip to the hospital. Children, the elderly and anyone recovering from another illness are at particular risk. Eggs are one of the most common sources of salmonellosis. Symptoms appear up to three days after eating infected eggs and include vomiting, cramps and severe diarrhea. Adding unpasteurized raw eggs to your smoothies significantly increases your chances of infection.
Considerations
If you want to add eggs to your shakes and smoothies, try using eggs that have been pasteurized while still in their shells. According to the FDA, an increasing number of stores offer pasteurized eggs. The pasteurization process kills most forms of bacteria found in the raw eggs, making them much safer to eat raw. However, to be safe, you should still cook the eggs if possible, particularly if you are serving them to young children or pregnant women. A dried or liquid egg substitute offers a safe alternative for your smoothies.