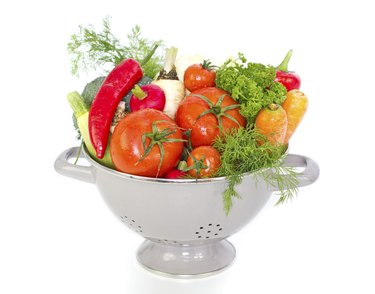 Make-ahead dishes can be the busy cook's salvation. Cookbooks often focus on main dishes, such as meat or poultry, but sometimes neglect vegetable side dishes. If you're tired of boring, microwave-steamed frozen veggies, or worse, canned vegetables, you're in luck. There are several methods you can use to precook tasty, nourishing vegetable dishes.
Blanched and Shocked Vegetables
Blanching means immersing food in boiling water for a short period of time, while shocking means stopping the cooking process by dunking food in ice water. This helps preserve the vegetables' color and texture, but does not significantly affect its nutrient content. "Cook's Illustrated" magazine recommends using this technique with green beans, snow peas, asparagus and broccoli. Cook these vegetables in boiling water for two to four minutes, or until crisp-tender, then transfer to ice water until no longer warm to the touch. Don't over-blanch your veggies, or you'll reduce their vitamin content. You can refrigerate blanched and shocked vegetables for up to three days. Rewarm in simmering water or the microwave before serving.
Roasted Vegetables
Roasting adds more flavor than blanching and shocking. This method imparts nutty flavor and intensifies the natural sweetness present in vegetables, such as yams and green beans. "Fine Cooking" recommends lining a heavy-duty, lipped baking sheet with parchment paper, adding evenly chopped, oiled veggies and roasting at 475 degrees Fahrenheit until the vegetables are tender and brown around the edges. For the most benefits, use healthful cooking oils -- such as extra virgin olive oil -- and use a light hand, just lightly coating your veggies to avoid adding too many calories to your dish. Cooking times vary, depending on the size and type of your vegetables. Allow to cool, then store in plastic containers and refrigerate overnight.
Mashed Potatoes
Of all vegetable dishes, mashed potatoes is perhaps the most challenging to make ahead. Once chilled, fully cooked mashed potatoes can turn gluey or dry out. However, they also offer health benefits, since the cooking and cooling process creates resistant starch, a type of starch that might help control diabetes. "Cook's Illustrated" magazine recommends microwaving whole potatoes for 16 minutes on high, flipping them halfway through the cooking process. Then, cook in a oven set at 350 degrees Fahrenheit for 30 minutes. Let the potatoes cool, then cut in half and scrape out the flesh. Refrigerate the potato flesh overnight. When you're ready to serve the potatoes, warm them in the microwave and gently mix in any flavorings, such as cream or buttermilk, butter and salt.
Vegetable Soup
When the weather turns cold, vegetable soup is the perfect make-ahead dish, giving you an all-purpose vegetable side perfect for toasted cheese sandwiches or roasted chicken. Heat vegetable oil over medium heat in a medium saucepan and add chopped carrots, celery and onions. Add tomato paste, cook for another 30 seconds, then add chicken or vegetable broth and whatever vegetables you like. Green beans, corn, and broccoli florets taste especially good. Simmer until the vegetables are just shy of tender. Reheat before serving. Opt for low-sodium or no-sodium broth when making soup -- regular broth comes loaded with blood pressure-boosting sodium.