When you're preparing for a holiday that's based around turkey, cooking appetizing dishes for the vegetarians on your guest list can be quite the challenge.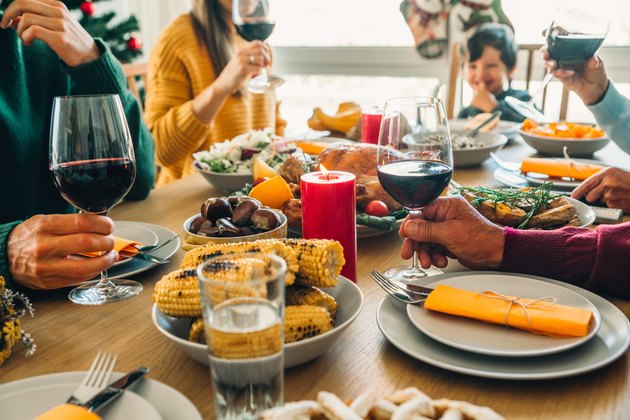 However, there are plenty of crowd-pleasing plant-based dishes that satisfy and add some festive flair to your table. We've got you covered with five delicious vegetarian Thanksgiving recipes — from appetizers to entrées to desserts — that will have both your meat-free and meat-loving friends and family going in for seconds.
1. Maple Spiced Cauliflower Roast With Pumpkin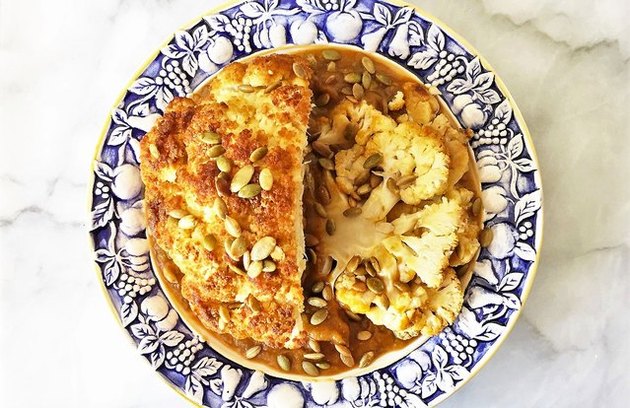 If carving a Turkey isn't for you, try a cauliflower roast instead! Topped with a pumpkin-based gravy, this dish makes for an excellent turkey alternative for the vegetarians at the table. Although this decadent recipe does need quite a few ingredients, it only takes 16 minutes to prepare and definitely won't disappoint.
Let's be honest, after a big plate of food (and a dessert or two) no one is a stranger to the post-Thanksgiving digestive disruption. However, cauliflower may help ward off this unwelcome holiday side effect. Cauliflower is loaded with fiber (about 8 grams in this dish), a nutrient that will not only keep digestion regular but will also promote satiety by preventing your blood sugar from spiking, according to the Academy of Nutrition and Dietetics.
2. Vegetarian Skillet Stuffing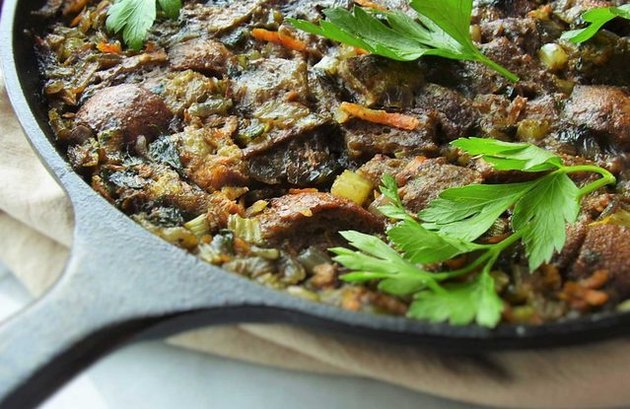 Thanksgiving just isn't complete without stuffing. And while the dish is traditionally prepared with chicken broth, this vegetarian recipe will satiate those stuffing cravings — no meat required. Although you won't need too many ingredients to prep this dish, it does need a little over an hour of cook time, so start this recipe earlier in the day.
This hearty side is prepared with whole-grain bread, making it a healthy alternative to typical stuffing made with sourdough or white bread. Whole grains are full of nutrients like fiber and iron but also contain some antioxidants you can't find in fruits or vegetables, according to the Whole Grains Council.
3. Thanksgiving-Inspired Ribollita
4. Smoky Maple Sweet Potatoes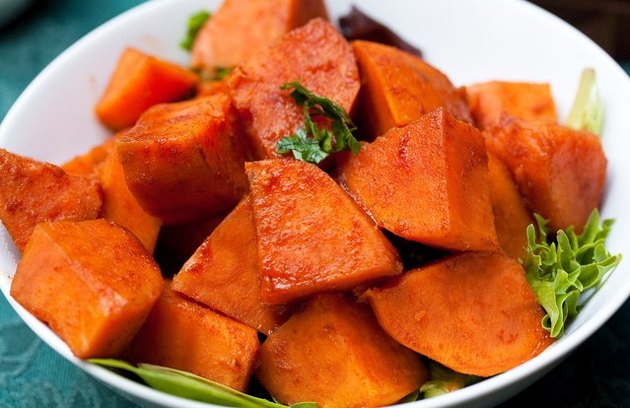 While we all love candied yams, these sweet potatoes are a great, lower sugar alternative. This comforting dish is prepared without oil yet maintains a rich flavor thanks to the seasonings. At only 87 calories per serving, this recipe will make the perfect carby side dish.
Plus, it boasts a host of health benefits. The starchy vegetable is high in carotenoids, like beta-cryptoxanthin, which is linked to lowering and combating inflammation, according to the Arthritis Foundation.
5. Tasty Sweet Potato Puff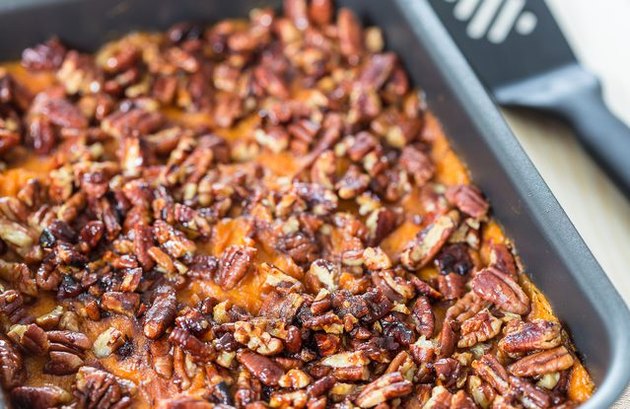 Although we all love pumpkin pie, this sweet-potato-based treat will add a unique flavor to your dessert table. High in healthy fats and protein, this relatively low-calorie recipe needs about 50 minutes to prepare but will leave your home smelling like toasted pecan goodness.
Nuts are full of healthy, filling fats and protein, deeming them a great addition to your holiday recipes. Raw or roasted nuts, like pecans, may even help improve your artery and heart health by lowering harmful LDL cholesterol levels, according to the Mayo Clinic. However, nuts are calorie-dense and this puff is still a dessert, so be mindful of your portion sizes.