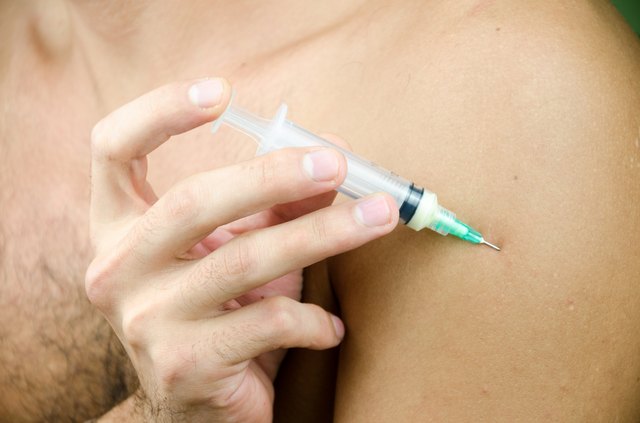 Your body needs vitamin B-12, also called cyanocobalamin, to produce DNA, RNA and red blood cells. If you cannot absorb enough vitamin B-12 from food, you may need to take an injectable supplement prescribed by your health care provider to treat or prevent anemia, nerve damage and cardiovascular complications. The dosage prescribed varies according to the severity of symptoms and the cause of the deficiency.
Vitamin B-12
Found naturally in food such as meat, fish and dairy products, vitamin B-12 plays a vital role in the cardiovascular and immune systems. Vitamin B-12 deficiency may cause fatigue, weakness, rapid heart beats, dizziness, poor appetite, shortness of breath, sore or swollen tongue, or tingling in your feet and hands and can cause permanent damage to the nerves and memory. Vitamin B-12 supplements for treatment and prevention of deficiency come in tablet, capsule, nasal spray, nasal gel and injectable forms.
Pernicious Anemia
Lack of intrinsic factor, a protein produced in the stomach lining and needed to absorb vitamin B-12 in the intestines, causes a serious form of anemia called pernicious anemia. With this condition, because the patient cannot absorb B-12 from food, treatment consists of injections of 100 micrograms of vitamin B-12 daily for seven days, according to Drugs.com. If the patient's condition improves, the injection schedule may be reduced to every other day for seven days, then every 3 to 4 days for 2 to 3 weeks, then 100 to 1,000 micrograms every month for the rest of his life.
Weight Loss Surgery
Studies of gastric bypass patients found that about 35 to 75 percent have vitamin B-12 deficiencies after the first year due to malabsorption issues, according a study published in the September 2008 issue of "Surgery for Obesity and Related Diseases." Patients may take oral or intramuscular B-12 for treatment and prevention. The usual intramuscular dose is 1000 micrograms every month.
Considerations
Dosages may vary according to the patient's age, symptoms, overall condition and the purpose of treatment. Because vitamin B-12 causes few side effects, some patients may receive doses of 500 to 1,000 micrograms every day for two weeks, then the same dose twice a week for four weeks, then monthly for the rest of their lives, according to Drugs.com. While most patients receive injections in their health care provider's office, those who learn to self-inject must follow instructions exactly to avoid future B-12 deficiencies.