Many people enjoy making homemade fudge, but the chocolate treat may not turn out as expected if you do not allow the fudge to harden correctly. Fudge becomes creamy when beaten and then begins to set up when cooking, but the cooking process is not complete when you take the fudge out of the oven. If you do not allow the fudge to harden correctly, the chocolate can either crystallize or remain in a liquid state.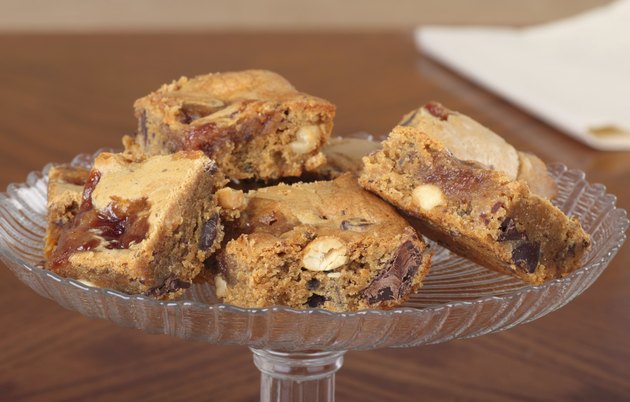 Step 1
Cook the fudge using the recipe of your choosing. Nearly every recipe calls for the fudge to be cooked in the oven or on the stove top, often at a temperature around boiling.
Step 2
Remove the fudge from the heat when it is done cooking and allow the pan to cool to around 110 or 120 degrees Fahrenheit. Leave the fudge undisturbed, only occasionally checking the exact temperature of the fudge with a candy thermometer.
Step 3
Beat the fudge with a wooden or silicone spoon after the fudge has cooled. If you do not allow the fudge to cool enough, the fudge will take much longer to harden. Keep beating the fudge until it loses its glossy texture and begins to thicken.
Step 4
Pour the fudge onto a buttered baking sheet.
Step 5
Knead the fudge with your hands until it reaches your desired texture. If you beat the fudge too long, you may have to knead for a longer time. The more you make fudge, the better you will get at timing when to transfer the fudge from the bowl to the pan.
Things You'll Need
Wooden/Silicone spoon

Candy thermometer

Butter

Baking sheet
Tip
Make sure no water gets into the fudge mixture when beating to avoid crystals forming.