Experiencing muscle soreness after a workout relates to the amount of stress placed on the body during exercise. Although the common "no pain, no gain" mindset holds some importance to progression, muscle soreness does not directly indicate an effective workout. Learning how to properly measure exercise progression and to identify when your body adapts to your routine will assist you in creating effective workouts.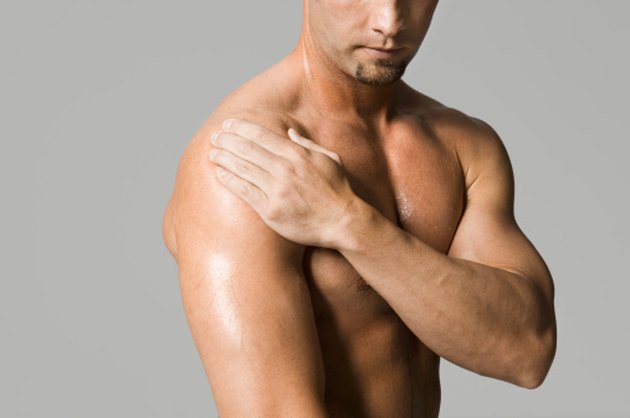 DOMS
The pain you feel in your muscles after a workout refers to Delayed Onset Muscle Soreness. This exercise induced soreness typically occurs a day after your training. Muscles become swollen and inflamed from the muscle fiber damage caused during your workouts.
Muscular Soreness Level
Intense activities such as sprinting and weight training cause the most damage to muscle fibers. These exercises place a greater amount of stress and demand on your muscles that result in higher levels of muscle soreness. The amount of soreness you experience relies on how efficiently your body adapts to your workouts. When your body adapts to a training program, you experience a lesser degree of muscular soreness. Although your soreness decreases, it does not mean your workout lacks effectiveness. This point in your training indicates the need to progress your training program. Progressing your training program typically includes adding exercise intensity, volume or frequency.
Measuring Exercise Effectiveness
Instead of basing how effective your workouts are by soreness, make use of other proven methods for testing progression. If you wish to increase strength, use the one-rep maximum test. Your one-rep maximum refers to the heaviest amount of weight you can move in an exercise for one repetition. For measuring size gains, perform circumference measurements and record. Various body locations such as the chest, biceps and thighs are indicators of size gains. For weight loss, use a scale and record your weight. Measure your progress every four to six weeks to assess the effectiveness of your workout plan.
Lessen Soreness
Performing a warm-up before your actual workout can lessen the effects of DOMS. A general warm-up consists of using larger muscle groups through activities such as running or calisthenics. The length of your warm-up depends on your fitness level. Beginning exercisers require a longer warm-up period compared with advanced exercisers.