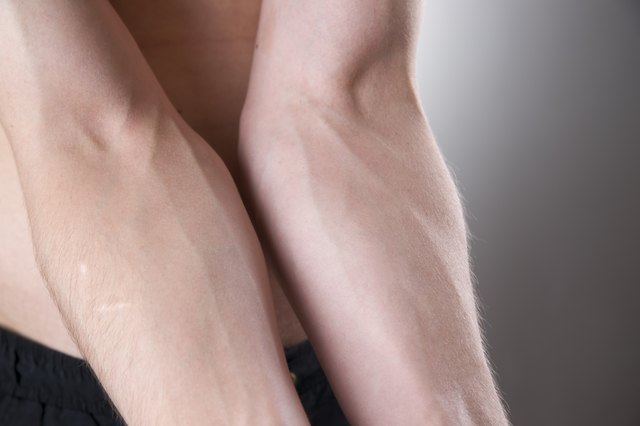 The forearm muscle, also referred to as the antebrachium, is made up of at least 20 different muscles. These muscles combine together to work your forearm, wrists and fingers. Exercising the forearms requires patience and attention to detail. The forearm muscles are small, stabilizer muscles that grow much slower than large muscles like pectorals or quadriceps. Knowing how often you should work your forearms is key to experiencing optimal muscle gains.
Warnings
First and foremost, extra care needs to be taken when lifting weights with your forearms. This collection of smaller muscles isn't meant to lift the amount of weight that your back or legs can in a single repetition. There are a massive amount of tendons and tiny muscles that can very easily be strained or even torn if too much stress is put on them at one time. When starting a forearm muscle regimen, begin with very light weight and eventually work your way up to heavier amounts.
Considerations
The process of muscle growth is an interesting one. When you perform forearm resistance exercises -- in this example we'll use dumbbell curls -- the muscle fibers inside your forearms actually begin tearing apart. At the end of the workout, your body sends cells specially designed to multiply and fuse to the site of the tear. After the healing process has completed, the muscles in your forearms will have grown back slightly larger and slightly stronger than before.
Rest
The muscle healing process needs time to occur. Then, once your forearms have regrown, they need time to recoup energy lost during your exercise. Resting your forearms is extremely important for building mass. A one or two day rest period between workout sessions is typical, but this will vary depending on how much you've been training and you're overall goals, notes Jonathan Mike, M.S. and Len Kravitz, Ph.D of the University of New Mexico. Special care must be taken in the workouts following your forearm workout so that you don't incorporate too many forearm heavy movements. Bicep movements are prime examples of exercises in which the forearm still plays a large role in. Thus, it's best to group your forearm exercise day in with your bicep day.
Protein
Giving your forearms several days to regrow and recoup isn't the only thing necessary to increase muscle mass. Your body needs plenty of nutrients to drive the muscle regrowth process with protein being the primary nutrient. In fact, the muscle growth process is commonly referred to as protein synthesis. The University of California - Los Angeles Department of Student Nutrition recommends eating 0.8 g of protein for every pound of body weight to promote maximum muscle growth during resistance training.