When you're pregnant, what you eat affects not only your health, but your baby's as well. You may hear advice from different people, from your co-workers to your great-aunt Sophie, about what you should and should not eat when pregnant, such as sesame seeds. While much of this advice comes from a good place, it is based on myth and not fact. Foods like sesame seeds are rich in nutrients that are good for both you and your baby. Consult your doctor if concerned about your diet during pregnancy.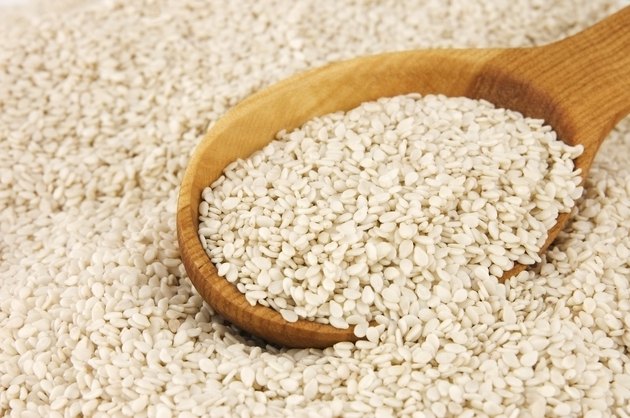 Concerns About Sesame Seeds
In the Indian culture, there is a belief that sesame seeds are a "heat producing" food. The added "heat" from the sesame seeds, according to this belief, upsets your natural balance during pregnancy, which may harm the baby, increasing your risk of miscarriage or premature labor. However, no evidence supports these beliefs or the idea that eating sesame seeds might cause any harm during pregnancy, according to the BabyCenter India website.
Sesame Seed Nutrition
Even though they are eaten in small quantities, sesame seeds are rich in a number of health-promoting nutrients, including fiber, iron and calcium. A 1-tablespoon serving of the toasted whole sesame seeds contains 51 calories, 2 grams of protein, 2 grams of carbs, 1 gram of fiber, 4 grams of fat, 89 milligrams of calcium and 1.3 milligrams of iron. The little seeds also contain magnesium, potassium and B vitamins. While the seeds are high in fat, most of it is heart-healthy and unsaturated.
Benefits of Sesame Seeds During Pregnancy
Making sure you get enough calcium and iron in your diet is important during pregnancy, and as a good source of both nutrients, sesame seeds can help you meet your needs. Calcium is important for healthy teeth and bones. Pregnant women need 1,200 milligrams to 1,500 milligrams of calcium a day. Getting enough iron in your diet during pregnancy ensures that your baby gets an adequate supply of oxygen in the womb, according to the Cleveland Clinic. You need 30 milligrams of iron a day when pregnant.
Adding Sesame Seeds to Your Diet
Rich in good-for-you nutrients, sesame seeds make a healthy addition to your diet during pregnancy, and you do not need to avoid them unless your doctor advises you to. You can add them to your morning bowl of hot cereal or toss them in your salad at lunch for nuttiness and crunch. They also make a good addition to a chicken and veggie stir-fry. You can also add sesame seeds to steamed rice or quinoa for extra flavor and nutrition.