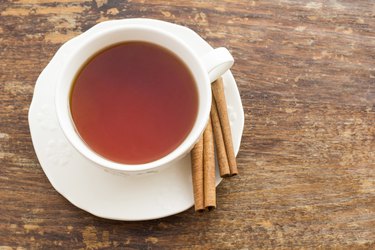 An analysis of the pros and cons of rooibos tea shows that the high antioxidant content may offer wellness advantages. However, be aware that some side effects have occasionally been reported. Since research on the herb is limited, check with your doctor before taking it.
Tip
Possible risks and side effects include liver toxicity, kidney damage and impaired fertility.
What Is Rooibos Tea?
According to authors of a 2009 study published in the Journal of Oleo Science, rooibos is the African word for red bush, but the scientific name is Aspalathus linearis. South Africans have consumed rooibos tea for generations, and now people in many nations around the world drink it. The beverage is caffeine-free, which makes it an option for people who experience jitters and nervousness from caffeinated drinks.
Rooibos tea has an array of purported uses, but evidence of their efficacy is lacking. These include acne, insomnia, colic, low blood sugar control, aging, asthma, allergy, eczema, high blood pressure and cancer, as listed by the Memorial Sloan Kettering Cancer Center.
To make the tea, allow a tea bag or 1 teaspoon of loose tea to steep 5 minutes in water that has been brought to a boil. Some people drink it plain, while others add honey, sugar and milk. If you choose to have it plain, the tea contains no calories.
Rooibos Tea Side Effects
The Memorial Sloan Kettering Cancer Center reports that rooibos may cause liver damage. An October 2013 case study published in the ACG Case Reports Journal provides an account of liver toxicity associated with rooibos tea. The authors wrote that although liver toxicity has rarely been reported, a South African doctor provided anecdotal evidence that the problem has occurred.
Drinking large amounts of the tea may also harm the kidneys. Prolonged intake may produce small changes in the reproductive system and adversely affect fertility, adds the Memorial Sloan Kettering Cancer Center.
What about the association between rooibos tea and estrogen? Some compounds found in rooibos tea have actions that mimic the hormone estrogen. For this reason, people with hormone-related cancers, such as breast cancer, should be cautious about drinking the tea, states the Memorial Sloan Kettering Cancer Center.
Rooibos tea's antioxidant effects are beneficial for most people, but not for those undergoing chemotherapy. The antioxidants might reduce the effectiveness of certain drugs in this category.
Possible Rooibos Tea Benefits
Research on rooibos tea is limited, but its rich antioxidant content has caught the interest of the scientific community. Exposure to free radicals can cause the accumulation of oxidation damage over time, and lead to neurodegenerative diseases. Because the brain uses considerable oxygen, it's especially vulnerable to this problem, note the authors of a January 2014 study published in PLOS ONE.
The findings of the PLOS ONE study showed the antioxidants in rooibos tea helped prevent oxidative stress damage in rats, so the authors said clinical studies are needed to explore the benefit. While the study didn't involve humans, it's worth noting, because future research may build on these preliminary results.
Animal and test-tube studies indicate rooibos tea may improve immunity, reduce inflammation and reduce symptoms associated with type 2 diabetes, lists the Memorial Sloan Kettering Cancer Center. In addition, animal studies suggest the herb may have cancer-fighting properties.
In an October 2018 study published in Food & Function, researchers examined investigations that dealt with the value of rooibos for cardiovascular disease. They concluded that the herb may be helpful in the prevention or treatment. While results of studies look promising, additional research needs to be conducted to confirm potential disease prevention benefits.
Was this article helpful?
Thank you for your feedback!