There are many reasons why your ankles and legs might become swollen. Pregnancy, a diet high in salt, sunburn, heart failure, kidney disease, liver problems and certain medications may be to blame. You should always see your doctor if you have swelling, especially if you already have any medical conditions or are taking medications. Otherwise, eating certain foods, such as watermelon, celery and leeks, may help your body get rid of some of the water it's holding onto and reduce the swelling in your limbs.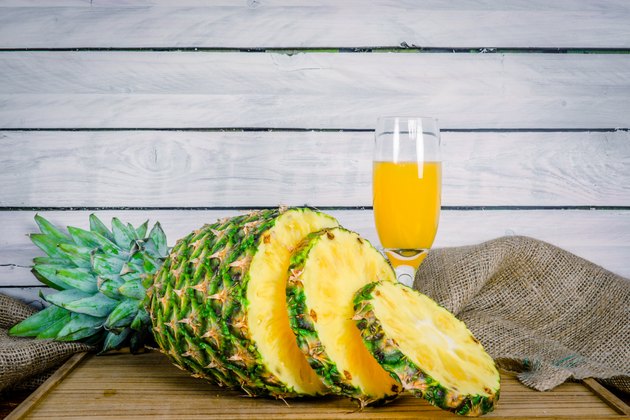 All About Edema
Water retention, also called edema, occurs when fluid builds up between the body's cells or in the circulatory system. There are two types of edema -- generalized, where the whole body retains water, and localized, in which only certain areas retain water. The feet, ankles and legs are the most common areas people experience localized water retention. Older individuals and pregnant woman are more likely to experience edema, but anyone of any age may retain water.
What Diuretics Do
Your doctor may prescribe diuretic medications, which, theoretically, do the same thing that diuretic foods do -- they make you urinate to get rid of water your body is holding onto. The difference is that prescription medications have been scientifically proven to work, where as there is no scientific evidence that eating certain foods will do any good. The good thing about diuretic foods, however, is that they add nutrients to to your diet and won't do you any harm, whereas diuretic medications can cause nutrient deficiencies and can have other serious side effects. However, if you're already being treated for swelling, discuss any dietary changes with your doctor because some foods that are natural diuretics may interact with your diuretic medications.
Foods to Include
According to the University of Maryland Medical Center, vegetables with diuretic properties include asparagus, parsley, beets, grapes, green beans, leafy greens, pineapples, pumpkins, onions, leeks and garlic. Registered dietitian David Grotto told the Fitness magazine website that watermelon is a natural diuretic, and JJ Virgin, author of "The Virgin Diet," told the Fox News website that cucumber and watercress have diuretic properties. In the same article, health expert Dr. Lori L. Shemek told Fox News that dandelion is a natural diuretic.
Other Natural Treatment Options
Certain dietary and lifestyle changes can help reduce swelling. If your water retention is the result of a high-salt diet, reduce your intake of salty foods and increase your intake of potassium-rich foods such as bananas and oranges. Potassium helps flush sodium from the body to restore balanced fluid levels. The University of Maryland Medical Center also recommends limiting your intake of refined foods like white bread, rice and pasta, avoiding alcohol and exercising lightly five days a week.